RIM BlackBerry Torch 9850 Review
19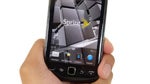 This version of the phone is intended for Sprint, but an identical one, called Torch 9860, is for AT&T.

Introduction:
Can you believe that it has been almost three years since the original
BlackBerry Storm 9530
debuted? And that it was positioned to being an iPhone killer at the time? Crazy to believe it, but yes, it has been that long. A year later, RIM was gracious enough to follow it up with its successor, the
Storm2 9550
, which managed to iron out some of the kinks and issues with its predecessor – but still, it failed to be compete with its rivals. Interestingly enough, we thought that RIM's desire to build an all touch smartphone died out last year when no successive device was announced, but it seems that RIM made use of the downtime.
Well, after close to two years of dormancy, RIM is about to unleash their third take on the all touchscreen form factor with the
BlackBerry Torch 9850
. Not messing around with any gimmicks, it seems that the Torch 9850 might be the actual one to finally end RIM's losing streak in achieving success in this category. Some might say that the third time is a charm, right? However, is it just too late for it to finally make some headway?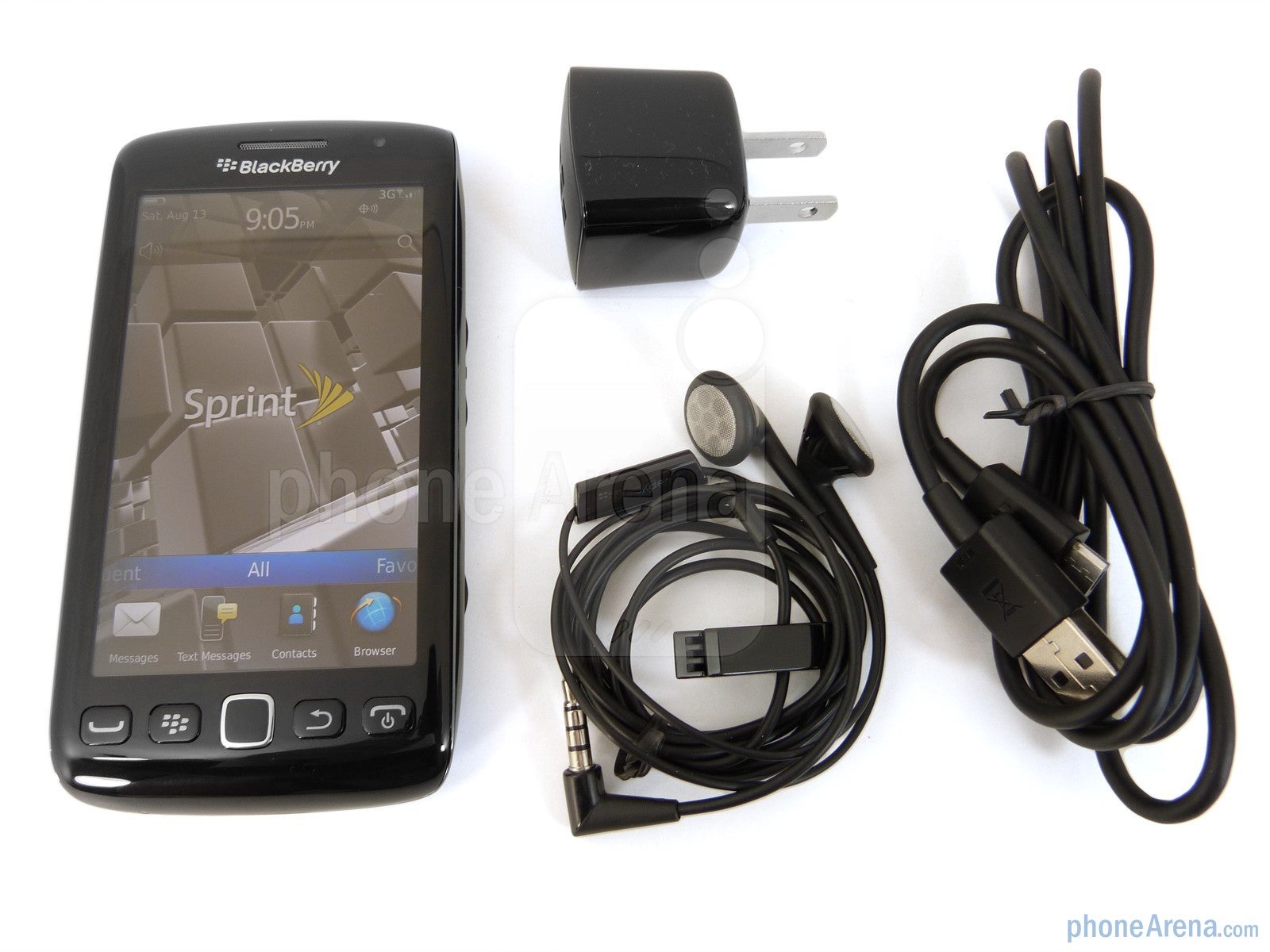 The package contains:
RIM BlackBerry Torch 9850
microUSB cable
Wall Charger
Hands-free 3.5mm headphones
Design:
Initially, we thought the Torch 9850 to be inferior in quality and craftsmanship compared to the two Storm smartphones. However, after getting a good feel for it, we're accepting the totally new design approach that RIM is taking with the full touch BlackBerry. For starters, it's a skinnier and more streamlined (0.45" thick) device, and at the same time, it's by far the lightest (4.76 oz) out of the entire touch-only bunch. On top of that, we adore that the chrome trim sprinkles a bit of premium touch to a handset that's constructed mostly out of glossy black plastic. Ultimately, it has an endearing design that's able to drastically differentiate itself from RIM's past offerings.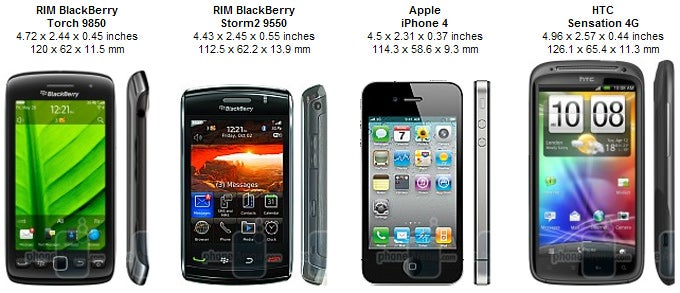 You can compare the RIM BlackBerry Torch 9850 with many other phones using our
Size Visualization Tool
.
Boasting the largest and highest resolution
display
to grace any BlackBerry smartphone thus far, we're grateful to find a reasonable 3.7" WVGA (480 x 800) screen on the Torch 9850 – whereas the previous Storm units employed smaller 3.25" displays. Sharp is one way of calling it, but it's nice to see plenty of distinctive details as well. Additionally, its high contrast allow colors to pop with enough iridescence to make our eyes drool. Granted that it's not as alluring as Super AMOLED Plus displays, it's nevertheless very attractive on the surface.
As much as we're inclined to interact with its touchscreen more, the handset still employs that typical
optical trackpad
as an alternative and useful way of navigating. Regretfully, we're not digging the very narrow looking volume rocker and shutter key that are clinging to the
right side
of the phone – they simply lack any distinguishable outlines.
Flipping it over, the Torch 9850 is carrying a higher 5-megapixel auto-focus camera with a single LED flash. Removing the metallic
back
cover that's covered in that soft touch matte material, we're given access to its SIM card slot, microSD card slot, and 1,230 mAh battery.
RIM BlackBerry Torch 9850 360-degrees View:
Recommended Stories