BlackBerry Super Bowl ad goes with humor instead of technology
35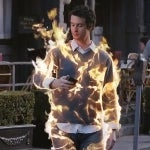 The eagerly awaited Super Bowl ad for BlackBerry was revealed during the game, and it showed that BlackBerry decided to go
with humor
instead of technology. The Canadian based tech company said that it wanted an ad that everyone would remember the next day when they were talking about the game. BlackBerry said that it wanted to show everyone that "BlackBerry is back," said CMO Frank Boulben.
The point of the ad is that there are so many things that BlackBerry 10 can do, it is easier to show what it can't do...like set you on fire while you are walkimg, or turn a jack-knifing fuel truck into a large number of harmless orange balls. Some of the scenes from the ad
had already been teased by BlackBerry
.
We have a real treat for you tonight. First, we have the actual ad for you to watch, and then we have some comments on the commercial from BlackBerry's CMO Frank Boulben. Whether you caught the ad when it was aired, or have yet to see it, click on the video below to watch it. Based on the official comments from BlackBerry, we would expect future ads to show off the new OS and the new phones.
source:BlackBerry(
1
), (
2
)