BlackBerry Storm 3 gets code named "Monaco"?
3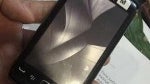 There has been so much speculation about a BlackBerry Storm3 launch for this year, that it is hard know exactly which information to believe. Throw in the poor performance from the hybrid BlackBerry Torch 9800 and the cancellation of the BlackBerry Storm 2 9570 refresh, and the waters get murkier and murkier.
The latest news is that the BlackBerry Storm3 on-again, off-again project is back on-again. Now featuring the code name of "Monaco", the Storm3 is expected to bring some new features to 'Berry users such as a front-facing camera for video-chat. Earlier this month we
reported
on a list of possible specs for the handset. Besides the camera in front, other new features for the Storm franchise could include an optical trackpad, something lacking from the first 2 Storm models. The OS could be one developed by recent acquisition QNX, whose software will be powering the BlackBerry PlayBook, and the clickable SurePress keyboard will be gone.
The window for getting a model out in time for the holidays is rapidly closing, it it isn't already shut. But considering that the "Monaco" could have been in the works for a few months already, don't be surprised if RIM tries to salt the clouds one more time in an attempt to bring out the BlackBerry Storm3.
source:
BBLeaks