BlackBerry Storm 2 out as soon as next month?
36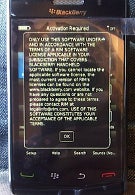 BlackBerryOS has been tipped by a person that claims to be a sr. level executive at Verizon. More importantly, she apparently has a good track record with her information. Her story goes that tech support at Big Red has been training on the BlackBerry Storm 2 for two weeks now and have been told to prepare to support the device by the end of this month. The tipster would not give a precise release date but said the Storm 2 would be launched before the end of next month at the latest. She also confirmed that the handset would have Wi-Fi and would run a 'Berry OS build starting with the number 5.
A June launch for the Storm sequel would make a crowded smartphone marketplace even more crowded. With the
Palm Pre set for a June 6th launch
followed two days later by the opening of Apple's annual WWDC, which traditionally has been the setting for important iPhone news, there is a risk that a remade Storm 2 could get lost in the shuffle.
All of this information could be rather upsetting for those who own the first BlackBerry Storm. With a sequel well on the way to being released, Verizon and RIM might have no further interest in upgrading the 4.7.0.75 OS that is the last officially recognized build from Big Red. And if there are no more upgrades or fixes for the initial model, will there be some kind of trade-in plan offered for those early adopters? After all, it was only about two weeks ago that an executive assistant to Verizon Wireless CEO Lowell McAdam told us that the OS upgrade for the 9530 was coming soon and would fix all of the problems on the handset.
source:
BlackBerryOS
via
Electronista