BlackBerry Q10 goes under the screwdriver, gets disassembled, bears almost all
4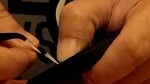 If you can stand watching a video shot entirely in portrait orientation, then you will not be distracted seeing the bits and pieces come off a pre-production unit of the upcoming
BlackBerry Q10
.
The Q10 is of particular interest to us because it holds the longstanding BlackBerry tradition of a packing a physical QWERTY keyboard. This may be the new BlackBerry that the über-faithful have been waiting for, and may be the real benchmark to gauge BlackBerry's return in the market.
To be frank, it is not a total disassembly. In a little less than 10 minutes, we are taken on a tour of how the device can be fairly easily opened up from the back, and remove the motherboard from the device. We do not get to see the screen assembly get removed or the keyboard fall into 30-something pieces.
It will be interesting to see how chop-shops like iFixit rate the Q10 for reparability. The Z10 scored an 8 out of 10 (10 being the easiest to repair), and based on the video below, we do not suspect the Q10 would fare much worse than that.
via:
CrackBerry.com