BlackBerry Priv's DTEK security app receives update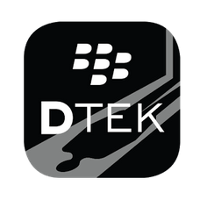 To differentiate the
BlackBerry Priv
from other Android phones, and to keep the promise of security and privacy inherent in the name of the handset, the DTEK app was created and pre-installed into every Priv unit produced. Monitoring your "screen lock, factory reset protection and remote device management," DTEK gives you a grade of
Excellent
,
Fair
or
Poor
so that you can see how protected your Priv is. DTEK also makes sure that a hacker isn't using the camera or microphone on your Priv without your knowledge
.
The app also warns you if someone isusing your phone to send text messages, or accessing your contacts and your current location.
Today, the DTEK app in the Google Play Store has been updated to take care of some annoying bugs that needed to be exterminated. If you don't feel like waiting for the notification that the app is ready to be updated, you can go to the Google Play Store and click on the hamburger menu icon on the top left of the screen. Click on "my apps and games" and you can then update the DTEK app.
Regardless of whether you purchased the Priv for security reasons, the DTEK app is included with the handset and it probably is in your best interest to use it. With that in mind, keep an eye out for the update which makes sure that the Priv's first line of defense is working as it should.
Screenshots of BlackBerry's DTEK security ap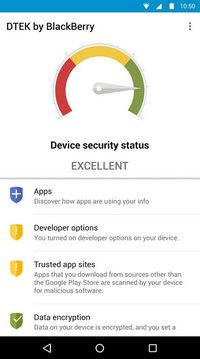 source:
DTEK
via
Crackberry