BlackBerry Priv sells out on Amazon U.S. in just hours
69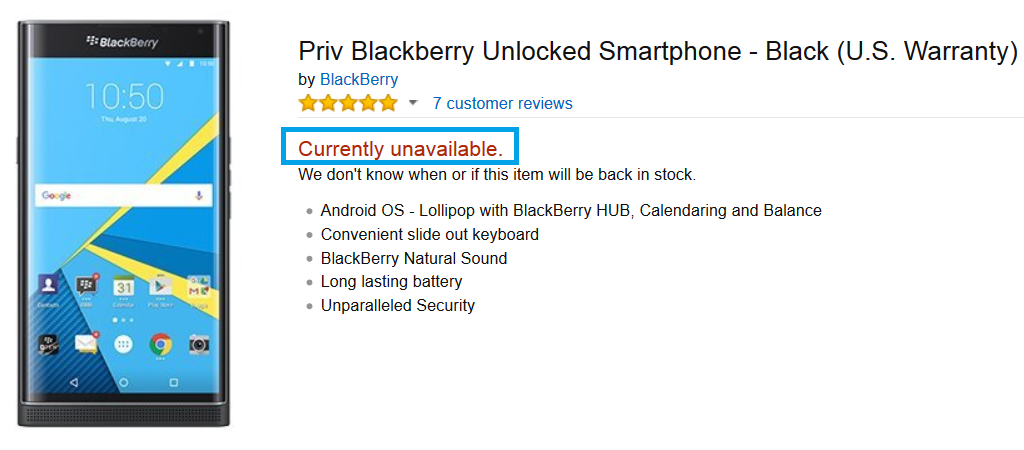 BlackBerry Priv sells out on Amazon U.S. in hours
Earlier today, we told you that demand for the
BlackBerry Priv
has been heavy. How heavy? Consider that on BlackBerry's own online store, new orders for the unlocked version of the Android flavored slider
won't be shipped until the week of November 23rd
. Now, we have more confirmation that the Priv is selling like hotcakes.
Earlier today, online retailer Amazon put the phone up for sale from its U.S. web site. Priced at the same $699 that it is being sold for through the manufacturer's website, the slider sold out on Amazon within hours.
If you live in the states and you absolutely must have a BlackBerry Priv, you can try AT&T. The latter, for now, is the only U.S. carrier with the phone. Verizon has said that
the Priv will be arriving at Big Red "soon."
Other places that might sell you the phone are
New York City's B&H Photo
, and BlackBerry's online store.
If sales of the Priv continue to be strong, we could see BlackBerry offer a version of the
BlackBerry Passport
powered by Android.
Images of such a device have already been leaked
,
with talk that BlackBerry is waiting to see how the public responds to the Priv. If the early results mean anything, it seems that the smartphone buying public really digs an Android powered BlackBerry.
source:
BerryReview