BlackBerry Priv: physical keyboard or on-screen, what's better?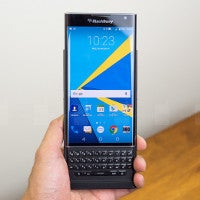 Touchscreens have revolutionized the way we interact with our mobile devices. During the early days of the smartphone, many of them packed along physical keyboards to give users a quick and useful way of inputting text. Now, the reason why so many of them packed physical keyboards is that the resistive technology of touchscreens back then, combined with the small size of their screens, made it nearly impossible to keep a good rate of speed.
Capacitive technology changed all that, which has undoubtedly become the dominant technology employed in today's modern smartphones. Very recently, we've been getting acquainted with the BlackBerry Priv, which not surprisingly enough, sports the signature keyboard that BlackBerry is known for. The device as a whole, is a refreshing change from the usual all-touch smartphones, seeing that the physical keyboard offers users the convenience of having that tactile feedback when typing something up – complementing the touchscreen keyboard it also offers.
Well, it got us thinking about whether or not using the physical keyboard is actually better than the on-screen one. We've grown quite fond of how touchscreens have improved the way we type things up with the on-screen keyboard, seeing that auto-correct and predictive features have virtually made it error proof. Therefore, we decided to give it a quick test to see whether the physical keyboard proves to be better or not.
We're not stopping there, just because we'll also pit it against some other phones and keyboards – such as the
iPhone 6s
, Galaxy S6 Active, and the SwiftKey keyboard. Don't forget to check out the video below to see exactly how it all turns out. And oh yeah, we're also going to check out their accuracy by typing stuff up with our eyes closed. You don't want to miss which of them offers the best experience.
BlackBerry PRIV Review