BlackBerry Priv and Passport prices discounted (this Valentine's Day and beyond)
14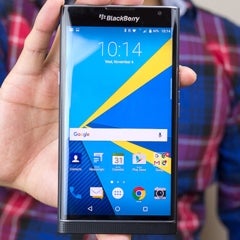 Planning to buy a
BlackBerry Priv
, or a
BlackBerry Passport
off contract? You may want to do it this month, as both smartphones are part of a Valentine's Day deal that sees their prices cut (not by too much, though).
Starting today, and until February 24, an unlocked BlackBerry Priv costs $649.99 (down from $699.99), while an unlocked BlackBerry Passport - in either black, or white - can be yours for $399.99 (down from $499.99). Both new prices seem to available only if you're purchasing the handsets from BlackBerry's official online shop - check out the source link at the end of this article.
The new Priv price includes
BlackBerry's previous offer
, thus you can actually get not just the Priv, but also a leather Smart Flip Case, and a Sync Pod (for transferring data between the smartphone and your computer) for $649.99.
The BlackBerry Priv and BlackBerry Passport are two very different smartphones, not just when it comes to design (the Priv is a slider, while the Passport is an unusually wide slate), but also when it comes to OSes: the Passport runs BlackBerry OS 10, while the Priv runs Android Lollipop (upgradeable to Android 6.0 Marshmallow). To find out more about the two handsets, check out our
BlackBerry Priv review
, and our
BlackBerry Passport review
.
source: BlackBerry (
Priv
,
Passport
) via
CrackBerry