BlackBerry PlayBook 4G is coming to the U.S. in a few months, available in Canada from August 9
2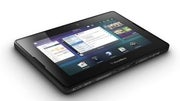 After all the leaks and speculations, RIM has finally announced the release date for its
BlackBerry PlayBook 4G
tablet.
The slate will be made available for purchase in Canada starting August 9, with other countries to follow in the near future.
That's "only" 18 months after
RIM unveiled the device officially
.
What makes the new model better than the old one? Well, the support for 4G LTE is what will attract potential buyers. In addition, Canadian owners of a 4G PlayBook will be given access to the BlackBerry Video Store where thousands of movies and TV shows will be available for purchase or rent.
Other than that, the slab does not appear to be much different than its Wi-Fi-only counterpart, or at least not on the outside. There is no mention of a bump in CPU clock speed, although
the processor in the 4G PlayBook is supposed to tick at 1.5GHz
. For all your storage needs you will get 32GB of on-board storage, and BlackBerry PlayBook OS 2.1 will come pre-installed on the device. In case you are wondering the 4G PlayBook will use Micro SIM cards for LTE connectivity.
For those of you who live outside of Canada, RIM has promised to release BlackBerry PlayBook models with support for
"various high speed cellular networks"
in the coming months. Those will get along well with carriers in the U.S., Europe, South Africa, Latin America and the Caribbean.
Recommended Stories