BlackBerry Passport one step closer to launch after FCC meet
22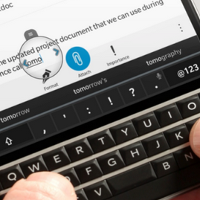 With the BlackBerry Passport, the company has not seen such a pre-release buzz for a new handset, since the
BlackBerry Storm 9530
was rumored to be an "iPhone killer" back in 2008. The Storm failed to live up to the hype, especially the Sure-Press typing system, which was supposed to make typing on glass feel as though you were typing on a physical QWERTY.
Ever since the
Apple iPhone
was unveiled in 2007, BlackBerry has focused on trying to combine a touchscreen with its iconic physical keyboard. The
BlackBerry Torch 9810
combined a touchscreen with a vertical sliding keyboard. And the
BlackBerry Bold 9900
/
9930
offered a small touchscreen display with the beloved BlackBerry physical QWERTY.
BlackBerry is once again tweaking its physical keyboard on the Passport. The three rows of letters lack punctuation keys or numbers. These will appear on virtual keys that are on the touchscreen, just above the top row of the physical keyboard. The keys that appear are contextually based. In other words, if you are browsing the internet, the virtual keys will include a colon (:) and a back slash (/). While sending an email, the virtual keys should include an "at sign" (@). And as we've seen on video,
the Passport's keyboard doubles as a trackpad
.
What is getting everyone excited about the device is not only the new keyboard, but also the unique square look, and the high-end specs. The BlackBerry Passport will feature a 4.5 inch screen with a 1440 x 1440 resolution. That will provide a tremendous pixel density for users. A quad-core Snapdragon 800 CPU is under the hood, with 3GB of RAM inside. A 3450mAh battery should provide power for at least one-full day.
The good news is that the BlackBerry Passport recently visited the FCC, taking the phone one step closer to its rumored September launch. While the image in the FCC documentation doesn't exactly look like the dimensions of the Passport, the "split-top" and the centered camera resemble the back of the device perfectly.
With BlackBerry 10.3 installed out of the box, the big question for BlackBerry is whether the Passport can take on the
Apple iPhone 6
,
Samsung Galaxy Note 4
, and other high-end models coming out in the third and fourth quarter of the year.
source:
FCC
via
Crackberry