BlackBerry Messenger may come preloaded on some Android devices
16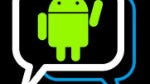 BlackBerry Messenger fans were pretty excited when the news finally came out that the messaging service would go cross-platform and make its way to both iOS and Android this summer. And, it sounds like BlackBerry has been working with Android handset makers in the lead-up to launch because a new report says that BBM could come preloaded on some Android devices.
Like today's news about BlackBerry's next flagship phone,
the A10
, this news comes from
CNET.
which had interviewed BlackBerry's chief operating officer (COO) Kristian Tear. Tear said, "There is interest from other handset makers," but didn't mention specific companies that BlackBerry has been in talks with. Tear also didn't elaborate on when BBM for Android would be released, nor if the devices with the service preloaded would be targeted to the U.S., although he did seem to imply the strategy may be targeted at countries where BBM is more actively used.
There has been talk is being abandoned by American users, who are switching to more popular platforms like Android and iOS. Tear tried to dispel that rumor saying that BBM has an active user base of 61 million customers around the world, and 70% of those users are daily users. Of course, for comparison's sake, WhatsApp has more than 200 million users.