BlackBerry Bold 9900 sold out at T-Mobile
10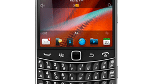 It was just yesterday when
T-Mobile launched the BlackBerry Bold 9900
. After one day,
the model is now sold out
at the nation's fourth largest carrier. The surge in sales for the T-Mobile variant of RIM's new flagship model came despite a surprisingly high price tag of $299.99 that the carrier placed on the phone, after a signed 2-year contract and a $50 rebate. Verizon and Sprint, selling essential the same phone as T-Mobile with the CDMA flavored BlackBerry Bold 9930, are offering their model for $249.99 with a signed 2-year pact.
Those T-Mobile customers who absolutely need to have one of the best physical QWERTY keyboards ever put on a smartphone, can head over to third party retailers like Walmart. Perhaps the fact that T-Mobile is sold out of the Bold 9900 will actually be a panacea as it will allow you to purchase the unit for a lower price.
Despite the mostly kind words from those who have purchased the phone, who would have expected a complete sellout of the BlackBerry Bold 9900 in just 24 hours for T-Mobile?
source:
T-Mobile
via
BlackBerryOS

The BlackBerry Bold 9900 is already sold out at T-Mobile