BlackBerry 10 gets a free StarCraft-like strategy game - UniWar HD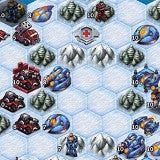 Developer Easy Software Solutions has brought its popular strategy game, UniWar HD, to BlackBerry 10. The cool thing about this is that UniWar HD is a cross-platform game so BB10 users will be able to play with the numerous Android and iOS players.
UniWar HD for BlackBerry will be available for free, even though it's paid on the other platforms. The game shares elements with hit RTS games for the PC like StarCraft, as it features three different factions, each with a number of different unit types. It allows for online play with up to 20 other players at the same time. It's a turn-based strategy, so gamers don't need to be looking at their handsets or have the game open all the time. When an opponent is ready with their turn, the player gets an email notification letting them now that they can now open the game and play their turn.
Judging by all the reviews and opinions online, UniWar HD is quite successful, so whoever wants to give it a try can do so using these download links:
Download:
UniWar HD for iOS
|
Android
|
BlackBerry
via:
BerryReview