Don't touch the black dot! New Unicode bug crashes iMessage on iOS and WhatsApp on Android
27
Remember the
Indian character
that made the rounds crashing iMessage? No, it's not back, but another one has replaced it - the black dot of death, as it freezes your system when you touch the message to preview.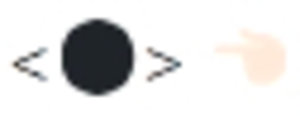 If you see this one sent to you, beware that it carries thousands of Unicode strings that will bog down your processing power, and will crash your iPhone or iPad while being processed.
The point to avoid those is moot, though, as there can be plenty of similar strings floating around, and it's not just iMessage that is affected, as the same black dot thingy crashes WhatsApp on Android, for instance. Here's a detailed explanation how all of this happens, but just remember - don't touch it!
The solution if you get this one (don't just start sending those at your exes at will now), is to force close Messages, then open a new thread by pressing deeper on its icon, go back and delete the original. Apple will likely release a whack-a-mole update to combat this particular Unicode bug, but until then, beware of the black dots of death in this world.