Black Friday survey shows continued demand for Apple iPad mini with Retina display
11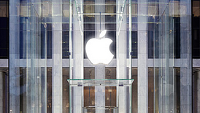 The
Apple iPad mini with Retina display
was
first made available on November 12th
and remained hard to find over the Black Friday 'shopping holiday'. That is based on a survey conducted by Chris Whitmore of Deutsche Bank. Whitmore looked at the supply and demand of various Apple products at 50 Apple Stores and 50 AT&T, Verizon, Sprint, Best Buy, Walmart and Target locations. He also examined some online stores as well.
The analyst whipped out his abacus and found that on Black Friday, 13% of Apple Stores had no stock of the Wi-Fi only Apple iPad mini with Retina display, and 20% were sold out of the Wi-Fi + Cellular model. That compared to the "
ample
" supplies found of the
Apple iPhone 5s
at physical Apple Stores. The analyst called demand for Apple's products "
robust
" and noted shortages of the 128GB
Apple iPad Air
.
Best Buy stores and retail locations belonging to the major U.S. carriers are well stocked when it comes to the iPhone 5s. Only a few of these locations that were part of Whitmore's survey were sold out of the handset. But when it comes to the iPad Air, these third party retailers had stock-out rates of 50% to 100% on Apple's new flagship tablet. Adding to the demand for the slate, some of these stores cut prices on the iPad Air for Black Friday. Consider that eBay announced that on Thanksgiving it was selling one Apple iPad per second at midnight just as the Turkey day holiday was becoming Black Friday.
In addition, our old friend Gene Munster of Piper Jaffray analyzed tweets with the hashtags #BlackFriday and #CyberMonday. Munster found that tweets tagged with the former title mentioned the Apple iPad the most of any product, while those tagged with the latter mentioned the Apple iPhone more than any other product. Apple was listed on .92% of #BlackFriday tweets and .23% of #CyberMonday tweets. Samsung's numbers were .2% and .29% respectively. Tweets mentioning Android were responsible for .11% of #BlackFriday tweets and .19% of #CyberMonday tweets.
source:
AppleInsider