Black & Brown Samsung Galaxy S III now available through Verizon
25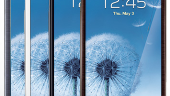 Earlier this week
we informed you
that the Verizon web site was showing that the Samsung Galaxy S III would be "available soon" in the
sapphire black and amber brown colors
.
It wasn't long of a wait, as both colors are now available for purchase starting today. But as it turns out,
only the 16GB model
of the Samsung Galaxy S III is being offered in the two additional color options, which means if you want the 32GB model, you're still limited to just the marble white and pebble blue colors. Furthermore, the 16GB amber brown model is listed as an "online exclusive" which means it will not be available from stores (at least fore now), leaving only the 16GB sapphire black to join the in-store line up.
Prices remain the same, $199.99 with a 2-year contract. But if you're not picky about the color, you may want to head over to your local
Best Buy this Sunday
, as they will be offering
$100 off on the Galaxy S III
, making it $99.99 for the 16GB and $199.99 for the 32GB models.
source:
Verizon Wireless