Bing! Microsoft's search app for the iPhone gets an updated home page
1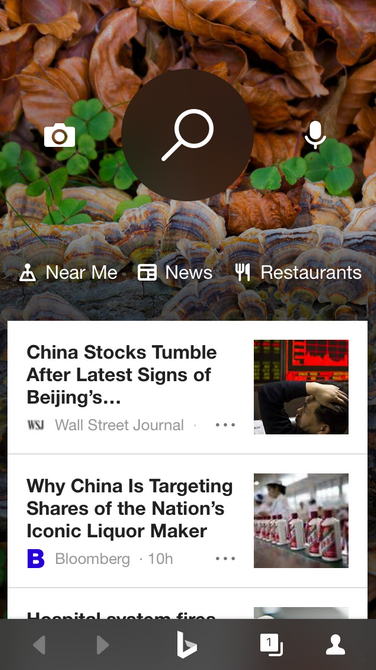 Update to Bing for iPhone features a revised home page
Shh. Listen carefully. Bing! There it is. That sound that you just imagined in your head is telling you that the Bing search app for the iPhone has been updated. And this new version (v.6.20) brings with it a redesigned home page that includes a custom news feed in the bottom half of the page. This feature will remember what kind of stories you like to read over time. Tapping on the "..." icon allows you to dislike a particular story or the source it came from. In addition, the new home page allows users to quickly access camera and voice search. The latter has also been re-designed to make it easier to use.
Before the update, the Bing home screen featured the daily image of the day with a huge search icon and links on the bottom for movies, images, near me and restaurants. By including the news feed, Microsoft is hoping that you'll automatically make Bing the first place you turn to when you get up in the morning to find out what happened overnight. Then, you will start to use Bing to catch up on the afternoon and evening news. Pretty soon, you'll be opening the app for your search needs. That, of course, is what Microsoft would like to see happen.
Meanwhile, the update to the iPhone version of Bing weighs in at 58.9MB. It will probably hit your iOS flavored handset in the next day or so. If not, you can open the App Store and put the update through manually. With the App Store open, simply click on "Updates" on the bottom right of the screen. Scroll down to Bing and click on
Update
. If you don't have Bing on your iPhone, click on the sourcelink to install the app on your device.
source:
Bing
(iPhone) via
MSPoweruser