Billionaire Cuban puts a 24 second clock on texts
5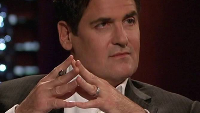 As many of you know, billionaire Mark Cuban owns the NBA's Dallas Mavericks. Perhaps basketball is where Cuban got the idea to use 24 seconds as the time period to allow texts written on his new messaging app to live, before they self-destruct and disappear. The app is called
Cyber Dust
and the 24 seconds that each text has to be read is undoubtedly based on the 24 second clock used in the NBA, which forces the team on offense to get off a shot within that time period, or lose possession of the ball.
Cyber Dust
has been described as "
WhatsApp meets Snapchat
." While basketball might have inspired Cuban to use 24 seconds to let a text live, the app was actually inspired by Cuban's own problems with the SEC, the agency that took him to court and accused him of insider trading. Cuban realized that every text written can be taken out of context. To prevent others from trying to put their own spin on your written words,
Cyber Dust
does not store any of your texts on its servers. Once a text is gone, the words cannot come back to bite you in the butt. Besides texts, Cuban says that he is working on a feature that would allow your entire digital footprint to be removed, over time.
"I've realized how much people fear that their digital footprint is creating a digital profile of all us. Your Facebook page. Your tweets. Your Pinterest, Tumbler, Instagram pages. Your Spotify and Pandora playlists… All of these are being aggregated and evaluated to tell marketers what you like, don't like, buy, won't buy, your political affiliations. Five plus years of all this data tells the world who you are – whether you wanted to or not."
-Mark Cuban
Cuban became a billionaire when he sold Broadcast.com to Yahoo for $5.9 billion back in 1999. The way messaging apps are valued these days, and with the huge increase in Snapchat's valuation last year, who knows?
Cyber Dust
might turn out to be his next multi-billion dollar idea.
source:
Forbes