Bill Murray selects a BlackBerry for his first smartphone
33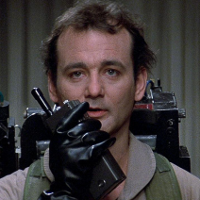 To say that Bill Murray is a strange duck would be an understatement. The comedian/actor/man about town has never been one to carry a phone, whether it be smart or dumb. Legend has it that to get in touch with the star, agents, pals and even family members, have to use a secret toll-free number that not too many know about.
But it looks like the 64 year-old has finally joined the rest of the world and has purchased a smartphone. Of course, leave it to Murray to stay clear of the iOS vs, Android debate, as the Ghostbusters star is now the proud owner of a BlackBerry handset. He has already handed out his phone number to Naomi Watts, his co-star in
St. Vincent
, a new film that opened last Friday. Watts might feel honored to be given the number, but she is complaining that agents keep calling, trying to get her to push a script to Murray for him to read.
As for which BlackBerry model Murray now sports, the
BlackBerry Passport
is different enough to suit the actor's personality. And a movie like
Caddyshack
might look good on the 4.5 inch, 1440 x 1440 screen. Murray told the
New York Post's Page Six
that he needed the phone to keep in touch with his kids, who won't answer a phone call, but will respond to a text. Sounds like the apples haven't fallen too far from the tree.
source:
NYPost
via
N4BB