Bill Gates won't return to Microsoft full-time ever: committed to charity
16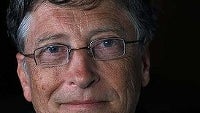 Is it because people don't like Steve Ballmer or because they love Bill Gates so much, that the rumor about
Gates coming back at the CEO chair
in Microsoft resurfaces with a surprising persistence? We don't know, but what we do know is that Gates is not coming back. Ever. This time, the former Microsoft chief executive confirmed this himself in an interview for Australian Sydney Herald finally putting all rumors to dust.
Bill Gates said he was committed to the
Bill & Melinda Gates Foundation
and that's what he wants to do for the rest of his life. As to Microsoft, Gates confirmed he's still active, but it's "part-time Microsoft, full-time charity" and that's how it's going to stay.
"I'm part-time involved with Microsoft, including even being in touch this week to give some of my advice but that's not going to change – the foundation requires all of my energy and we feel we're having a great impact."
Gates also spoke about his sometimes edgy relationship with Steve Jobs, or rather the tough words Jobs would often address at Microsoft. Gates admitted Jobs was
"brilliant,"
but also shared his opinions that it was the fact that Microsoft machines outsold Macs by a lot that irritated and could have caused the comments. The later Jobs was much kinder, Gates noted.
Well, Jobs seems to have always been honest with his opinion on Gates. And even in the recently released biography by Walter Isaacson he iterated:
"Bill is basically unimaginative and has never invented anything, which is why I think he's more comfortable now in philanthropy than technology. He just shamelessly ripped off other people's ideas."
Gates' in return had replied:
"Don't you understand that Steve doesn't know anything about technology? He's just a super salesman."
Now, this kind of debate is something we'd actually miss a bit, but in either case we finally have some clarity about Gates' return. We're curious to hear what you think about the current Microsoft leadership - should somethink change there? Drop your two cents in the comments below and for the video interview with Gates hit the source link.