Big funds are rejecting Sprint's bid for Clearwire
5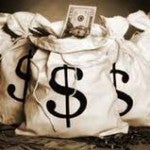 Barbarians at the Gate
). On December 13th,
Sprint offered $2.1 billion or $2.97 a share
for the 48.3% of wireless network provider Clearwire that it did not own. It appeared as though it would be a simple deal until January 8th when
Dish Network lobbed in an "indication of interest," which included a conditional tender offer at $3.30 a share
for Clearwire. The offer requires
at least 25%
of Clearwire's stock to be tendered to Dish.
With such a large discrepancy between the the two offers, some investors are deciding to withdraw or hold back their support for Sprint to see if they can get the nation's third largest carrier to raise its bid. Glenview Capital Management, with 28 million Clearview shares, is said to be rejecting Sprint's current offer says a source with knowledge of how the firm is thinking. Chris Gleason, a principal at Taran Asset Management which is another Clearwire holder, is planning to file a complaint with the FCC claiming that Clearwire is worth more than Sprint's bid. Similarly, Crest Financial Ltd. sent a letter to the FCC asking that the agency blocks Sprint's deal because it
undervalues
Clearwire's spectrum. Sprint is hoping that because the Dish offer is conditional, it won't have to make any changes to its bid.
"We believe our offer is superior to Dish's. Dish has made a highly conditional proposal, so it's not even possible to make a counteroffer to that."-Bill White, Sprint Spokesman

"Sprint has the ability to get the deal done if they increase their offer. To pretend they don't have to raise their bid is silly."-Chris Gleason, principal, Taran Asset Management
Speaking of spectrum, Dish wants it to become a mobile carrier. The company already has
the blessings of the FCC to use spectrum it owns for satellite transmissions to be the centerpiece of a new mobile carrier
as long as Dish follows certain power requirements to prevent interference with its signal. Dish CEO Charles Ergen said
he is mulling over whether to go it alone or to add a partner
. Meanwhile Sprint wants Clearwire's spectrum to enhance its current service.
While Clearwire's Special Committee has already approved the Sprint offer, the big funds will ultimately have a say in the outcome considering their large holding of stock. Their influence is somewhat limited by Sprint's ownership of a majority of Clearwire's stock. Also involved will be the arbs, who have presumably been buying the shares at current levels, hoping for a higher bid from Sprint. Both the arbs and the funds care about only one thing and that is fetching the
highest price possible
for their stock. Clearwire closed Thursday at $3.14 a share
source:
Bloomberg