Big changes coming? Apple spends $500 million extra in R&D
25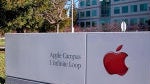 The call for Apple to surprise us has been going on so long now that even the Apple faithful are getting in on it. iOS hasn't seen any major UI changes in years, and while the iPhone is designed well, that design hasn't changed much in the past few years except to get longer and a metal back. But, word has it that Apple increased its R&D budget over the past 6 months by $500 million, prompting the question: is something big on the way?
That is an increase of 33% in Q2 compared to Q1, and it puts Apple on track to spend $4 billion on research and development this year. In the first six months of its fiscal year, Apple has already spent $2.13 billion on R&D, which is extra impressive given that the company only spent $1.6 billion for all of the previous fiscal year. Apple said that the extra spending was:
directly related to timely development of new and enhanced products that are central to the Company's core business strategy. As such, the Company expects to make further investments in R&D to remain competitive.
That seems to point not only to funding for the rumored iWatch (which would be at least one "new" product), but improvements to the existing lineup of Apple products. And, if you think that spending over $2 billion in R&D is a ton of money (which it is), just keep in mind that figure represents just 2% of Apple's net sales.
Now, if you'll excuse us, we have to fish around in the couch for quarters so we can afford to do laundry...