Best wireless earbuds for running and working out
2
We may earn a commission if you make a purchase from the links on this page.
Wireless earbuds are so popular these days that you probably can buy a pair at your local gas station while filling up the tank of your Mustang. Now, earbuds for running and working out are a completely different matter, as they have to cover a specific set of features, in addition to offering good sound quality.
They need to fit tightly yet comfortably in your ear, in order not to become a distraction during your workout. Weight is also very important - when we talk about athletic performance and sports, the lighter the earbuds - the better.
Waterproofing is almost a must if you like to jog outside or even during an intense indoor workout when your hard-burned calories are dripping as a righteous sweat over your body. Noise-canceling technology can be a blessing and a curse when working out, especially outside of your home or gym.
A well-executed transparency mode can be a lifesaver when you're jogging near a busy street, while decent noise-canceling algorithms can help you focus on your workout and elevate your performance.
Last but not least, there's the battery life. Most earphones come with decent battery life but if you like hiking or other prolonged activities, you have to make sure your earbuds are up to the task.
We've compiled a list of models in different categories, as well as an overall best, so you can choose the right wireless earbuds for you. Here are the best wireless earbuds for running and working out.
Jump to section:
Best wireless earbuds overall
Jabra Elite Active 75t
That's right, our best overall winner comes from Jabra and this is a case where the whole is greater than the sum of its parts. The Elite Active 75t wireless earbuds offer a great sound quality, they are relatively lightweight at 5.5 grams per earbud, and Jabra has just nailed the shape. These earbuds fit perfectly in almost every ear without creating pressure or strain.
Couple all this with IP57 water, sweat, and dust resistance, add the wonderful HearThrough mode, and you'll get why these are at the top of our list. You get 7 hours of battery life (up to 24 with the case), smart assistance integration, Bluetooth 5.0, active noise-cancelation, the whole deal. Plus, they don't cost an arm and a leg and can be found for around $150.
The Jabra Elite Active 75t wireless earbuds just tick all the boxes.
Best sounding wireless earbuds
Sennheiser Momentum True Wireless 2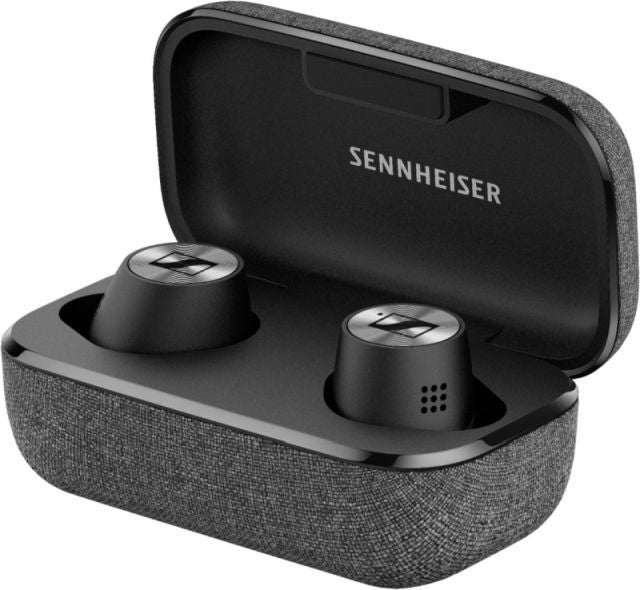 We're big fans of Sennheiser audio products! The German brand is well known among professional musicians and its consumer-grade headphones and earbuds are exceptionally good. Now, the Momentum True Wireless earbuds are not specifically designed with sport in mind, but if you want the best audio quality in an in-ear format, this is the model for you.

These earbuds feature a high-end stereo sound courtesy of Sennheiser's unique 7-millimeter dynamic audio drivers. The Sennheiser Momentum True Wireless 2 earphones also feature active noise-canceling technology, customizable touch controls, and long battery life.
They're a bit on the heavier side at 9 grams per earbud but that's the price to be paid for those angelic sounds in your ear. Last but not least, these sport an IPX4 rating - making them sweat- and splashproof.
Most comfortable earbuds for working out
Samsung Galaxy Buds Live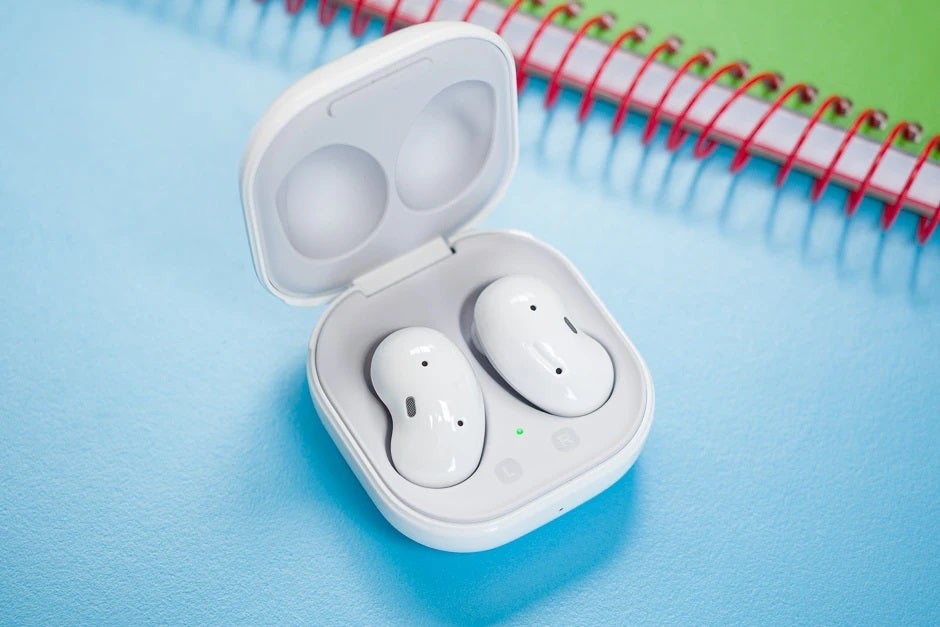 For all of you expecting to find an Apple product in this category, this might come as a surprise. But here we are! The Samsung Galaxy Buds Live turned out to be really comfortable and you can check our full review for additional details.
These earbuds fit perfectly in your ear, thanks to the unique bean-shaped design. Here's a quote from one of my colleagues, who tested and reviewed the model:
Not only are the Buds Live super light and comfortable to wear, but are easy to completely forget about after a while. Eventually, you just feel like you're living with a soundtrack.
The Samsung Galaxy Buds Live wireless earphones don't skip on features too. They are IPX2 certified, which means that if you get sweaty you've got nothing to worry about. The sound quality is impressive, and the noise-canceling feature works well too. Not to mention, the price of these earphones is quite attractive.
Best noise-canceling earbuds for sport
Sony WF-SP800N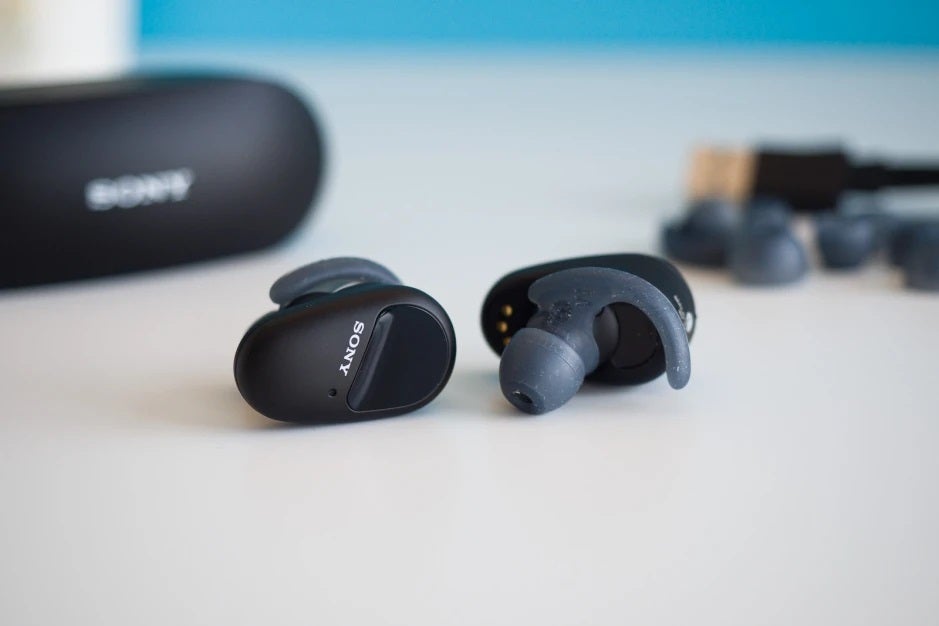 The obvious choice here would've been the amazing Sony WF-1000XM3. These offer arguably the best noise-canceling technology in an in-ear design. Have you tried running with one of these, though? And besides, there's another model, that comes really close to the 1000XM3 but is geared towards a more active way of using a pair of earphones - the Sony WF-SP800N
First of all, the Sony WF-SP800N earphones sport an IP55 rating, meaning they can withstand splashes of water, or dust and sweat. Knowing you can safely rinse them after an active gym session is a major plus. Second, the headphones have a soft-cushioned arc supporter (two sizes) and a rubber earpiece (four sizes).
All this ensures a perfect fit even throughout the most intensive workout session. And now we come to the cherry on the top - the noise-canceling tech.

The Ambient Sound Control toggle in the companion app allows you to adjust the Sony WF-SP800N noise canceling. You can either have full-on noise canceling, which is really effective, or use a slider that will progressively let you hear more sounds.
There's also a convenient option for allowing you to hear voices in particular, quite handy if you're working out with an instructor.
Best affordable sports earbuds
Anker Soundcore Liberty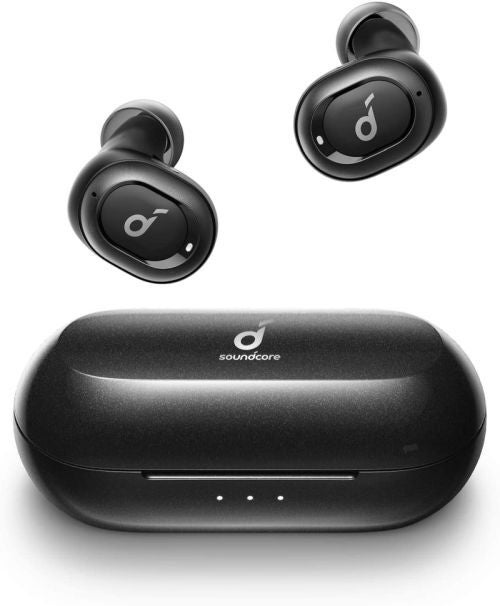 If you don't want to shed off hundreds of dollars on a pair of earbuds but still need something all-around decent for the price, the Anker Soundcore Liberty Neo is a perfect choice. They can be found for as little as $45 and are practically unbeatable at that price.
You get noise-canceling, an IPX5 Water, dust, and sweat resistance, a decent battery life, and good sound. What's not to like?