Best wearable of MWC 2014: PhoneArena awards
9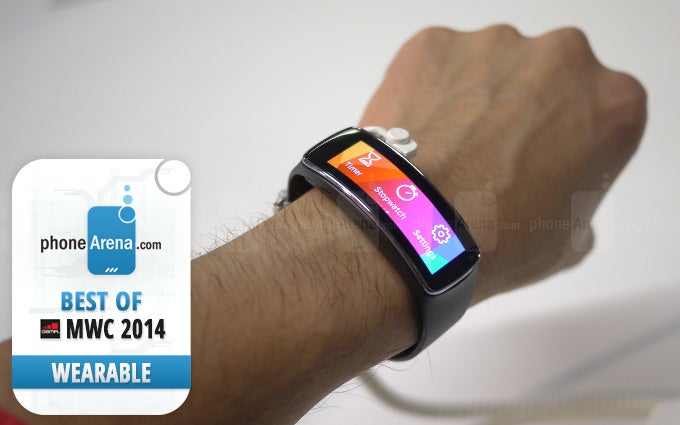 Wearable devices are all the rage this year, and there were quite a few of them at Mobile World Congress, but was there really any single break-through one? We looked through all the announcements to pick the one that is worth of being awarded as the "very best wearable of MWC 2014," and this symbolic award goes to… the
Samsung Gear Fit
.
The Gear Fit is the first wearable device with a flexible AMOLED panel and it looks really novel and sleek, like a timepiece from the future. Its colorful 1.84-inch display (it has a resolution of 432 x 128 pixels) will definitely draw the eyes of passers-by, but it's also touch-enabled and features an interface specifically optimized for the small screen and the needs of a wearable device.
The Gear Fit runs on a very simple operating system (not Android, nor Tizen) that allows you to check your phone notifications, but in addition to that, it also has fitness-oriented functions like a step counter. This simple OS allows the Fit to last three to four days on a single charge, while the Gear 2 smartwatch lasts just two.
Finally, the Gear Fit works with multiple Samsung devices (but no phones from other brands), and is the first wearable device that seems to take a leap in the right direction towards that futuristic ideal for a wearable gadget.