Best waterproof Bluetooth speakers for summer (Updated June, 2022)
7
We may earn a commission if you make a purchase from the links on this page.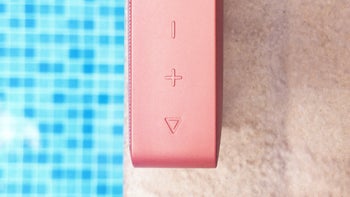 Summertime is basically here and people's souls naturally start craving for that quality beach/pool time with friends and family. One of the best things to bring with you on a summer trip is undoubtedly a waterproof Bluetooth speaker to set the tone and add atmosphere with your favorite tunes.
There are a lot of things to consider when buying yourself a waterproof Bluetooth speaker, such as durability, battery life, whether it floats or not, if it can continue playing music after being submerged under water, and last but not least its audio quality and volume.
There is quite a bit of variety when it comes to such devices in 2022, which is why we made a curated list of the best ones we think you could get for your next summer vacation. We've taken into consideration all the above-mentioned factors that make up a waterproof Bluetooth speaker, as well as brand reputation, to come up with the safest and best options for you. Keep reading on to find out!
You might also want to check out some of our other speaker-related content:
The best waterproof Bluetooth speakers at a glance:
What is the difference between waterproof and water resistant?
Many devices these days have some kind of protection from water, and even from dust sometimes. However, the degrees of protection varies and that degree is usually presented in an ingress protection (IP) rating.
As you might already know, an IP rating has two numbers. The first one stands for the device's protection against solid objects, while the second showcases the level protection from water. The higher the number, the better said device is protected.
An IP67 rating, for example, means that a device has complete protection against dust and is protected against water immersion at depths between 6in (15cm) and 39in (1m). That also includes protection against powerful water jets from all directions.
If a device is IP67 certified that means it is dust and waterproof, in other words, completely protected from both, at least to some degree. Anything lower than level 7 of waterproofing means the device cannot be submerged under water, therefore making it water resistant. Go even lower, and it becomes only splash proof.
Now that we have some grasp over the nuances of an IP rating and different degrees of water proofing, here are our top picks for the best waterproof Bluetooth speakers.
JBL Flip 6
The JBL Flip 6 is probably the best all-rounder out of the bunch we have in this list. It offers good sound quality without being too bulky and cumbersome. That goes not only for its general volume, but for the bass that it can produce.
Of course, the JBL Flip 6 is completely dust-proof and waterproof, but keep in mind that it does not float. With that in mind, it is probably more suitable for outdoor hikes, taking into the shower, or any other activity that does not revolve around a large body of water.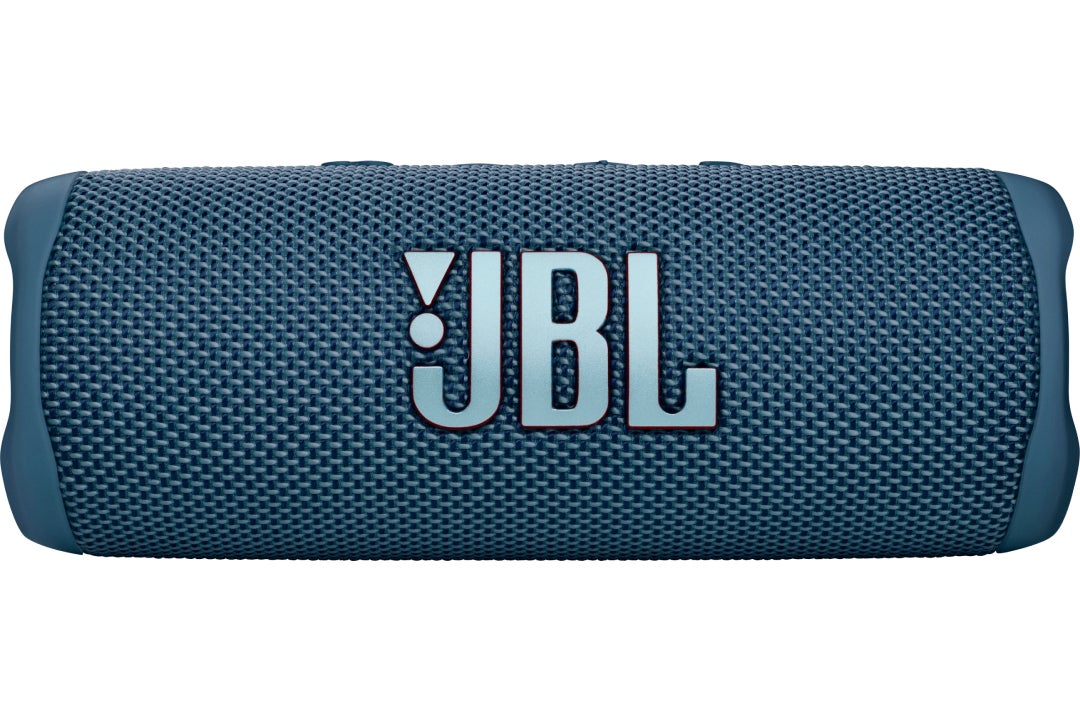 The JBL Flip 6 in blue
Nevertheless, if you can overlook its inability to float on water, the JBL Flip 6 has plenty to offer. Apart from its good sound quality, it has Bluetooth 5.0 and great battery life which can last up to 12 hours when fully charged, especially paired with its USB-C port for charging.
A couple of things to note, though, is that it does not have a microphone (just like many other of the JBL speakers) and can be paired up only with other JBL Bluetooth speakers of the same generation.
Get your JBL Flip 6 here:
JBL Charge 5
The whole idea behind the Charge line from JBL is to combine the functionality of a portable Bluetooth speaker with that of a power bank. Using the USB-A port of the JBL Charge 5 you can juice up other devices — like your phone, for example.
In order for this idea to work, however, the Charge series needs to have a beefy battery inside. The Charge 5 is no different in this regard, boasting 20 hours of battery life.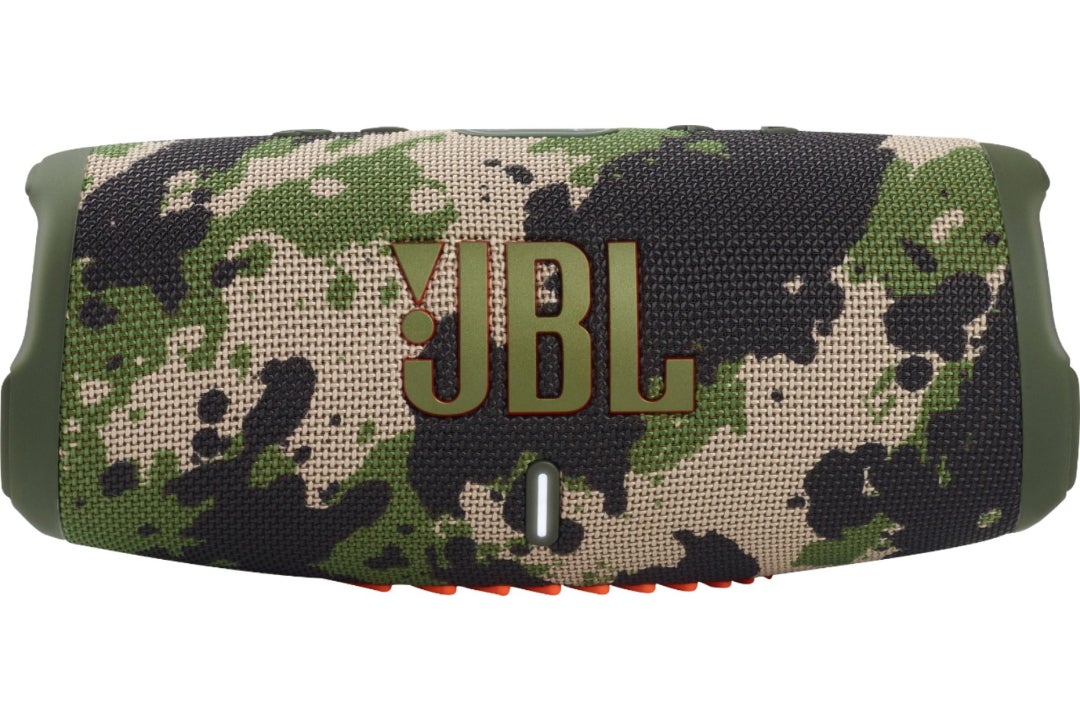 The JBL Charge 5 in camo
Unlike the JBL Flip 6, the JBL Charge 5
does
float on water so you can feel safe when taking it with you on a boat, or when you are around a pool/at the beach. It also offers greater volume and sound quality, Bluetooth 5.1, and JBL's own PartyBoost feature, which you can use to pair to other compatible JBL speakers.
One of the caveats that stems from its larger battery and better sound, though, is its weight and bigger size, so make sure you are okay with that before deciding to buy this thick boy.
Get your JBL Charge 5 here:
Soundcore Motion Boom
Speaking of large waterproof Bluetooth speakers, there's also the Soundcore Motion Boom. If you are looking to get your hands on a waterproof Bluetooth speaker that can pack a punch while being easy on your wallet, then this one is definitely worth your consideration.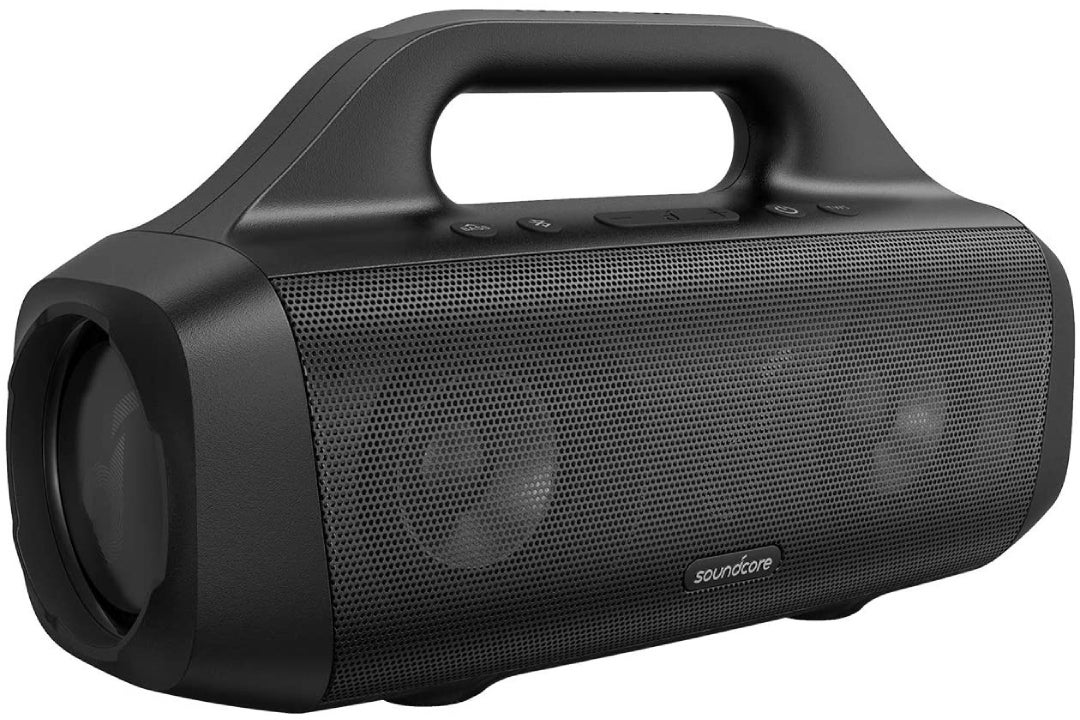 Soundcore's Motion Boom Bluetooth speaker
The Motion Boom from Soundcore comes with great sound both in volume and quality for its price tag. What's more, it has up to 24 hours of battery life and can be charged via USB-C. That amazing battery can also be used to charge other devices through the USB-A port on the back.
To top it all off, the Soundcore Motion Boom is plenty safe to take to the pool, as it will float when dropped in water and does not need to dry out once taken out in order to keep listening to your music. The IPX 7 rating means that it is waterproof, but it also means that it is not dust-proof.
Get your Soundcore Motion Boom here:
JBL Clip 4
It's amazing how much sound can come out of a little waterproof Bluetooth speaker sometimes. The JBL Clip 4 manages to pack awesome volumes and sound quality for its small size. It is meant to be carried outdoors, of course, so it can take on the elements without a problem.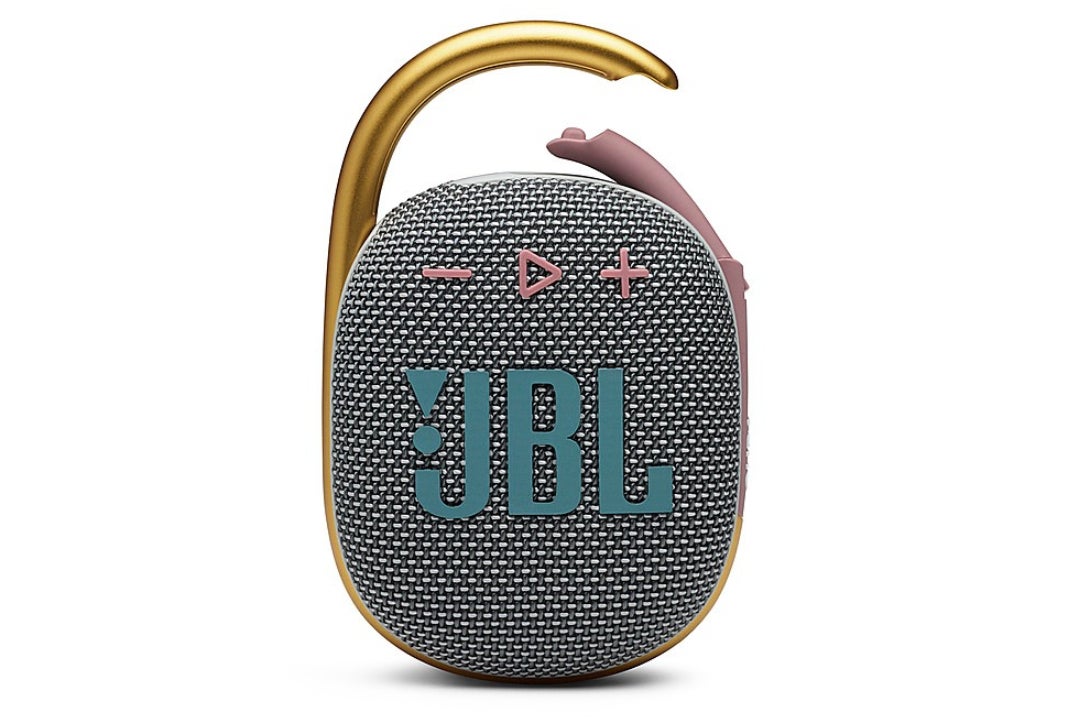 The JBL Clip 4 in gray
The downside of the JBL Clip 4, however, is that it will sink like a nail once thrown into the water, hence, it's probably best to keep it away from any lakes/the ocean as it would be difficult to find if lost. That being said, it is waterproof, so at least you don't have to think about any damages in that regard.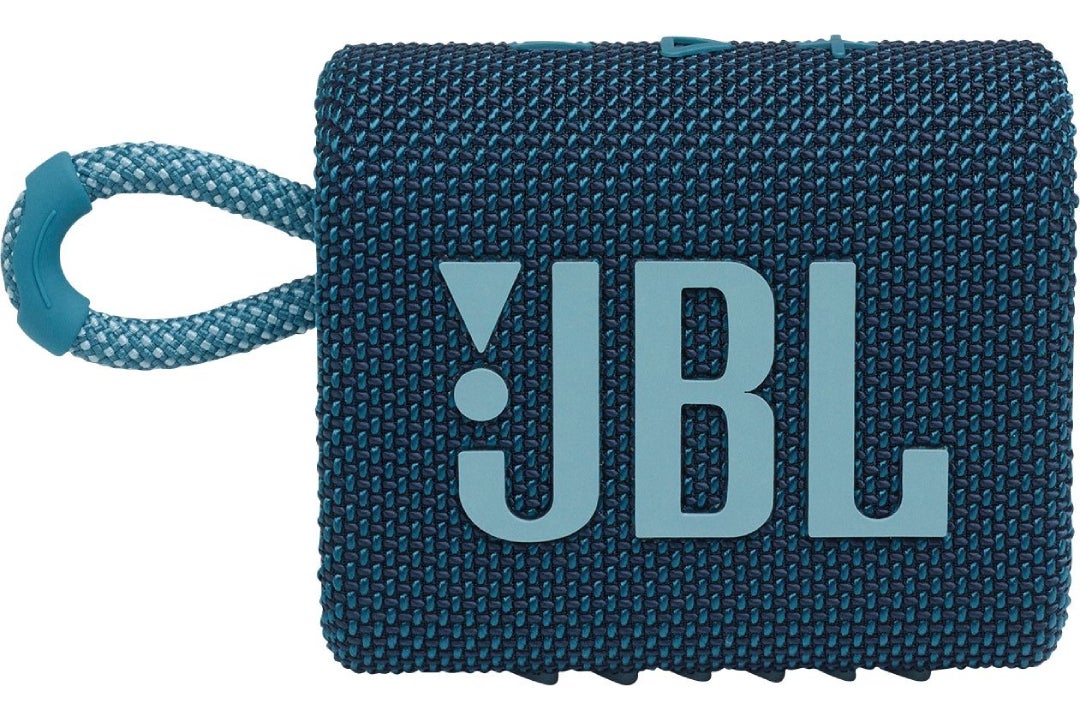 The JBL Go 3 in blue
Now, if you want something that leans towards the more affordable side, there is another great option — the JBL GO 3. Just like the Clip 4, it can be attached to а backpack, but with a lanyard instead of a clip. While the JBL GO 3 does not float either, but it is still as waterproof.
The sound from the GO 3 is admittedly not as rich and full as that of the JBL Clip 4, but is still decent given how affordable this little guy is. One last difference to note between the two is that the JBL Clip 4's battery lasts up to 10 hours, while the JBL GO 3 can only last up to 5 hours.
Get your JBL Clip 4 or JBL Go 3 here:
UE Wonderboom 2
While we are still on the topic of small waterproof Bluetooth speakers, we have to talk about the UE Wonderboom 2. In terms of durability, it can take a lot of beating and does not sweat in the face of the elements.
The UE Wonderboom 2 has an IP67 rating and is drop-tested at heights of up to 5 feet. It will also pop right back up if you were to throw it in water, as it's been made to float. Another plus is that the drivers don't need to dry out before you start using it again. The sound quickly gets back to normal once you take it out of the water.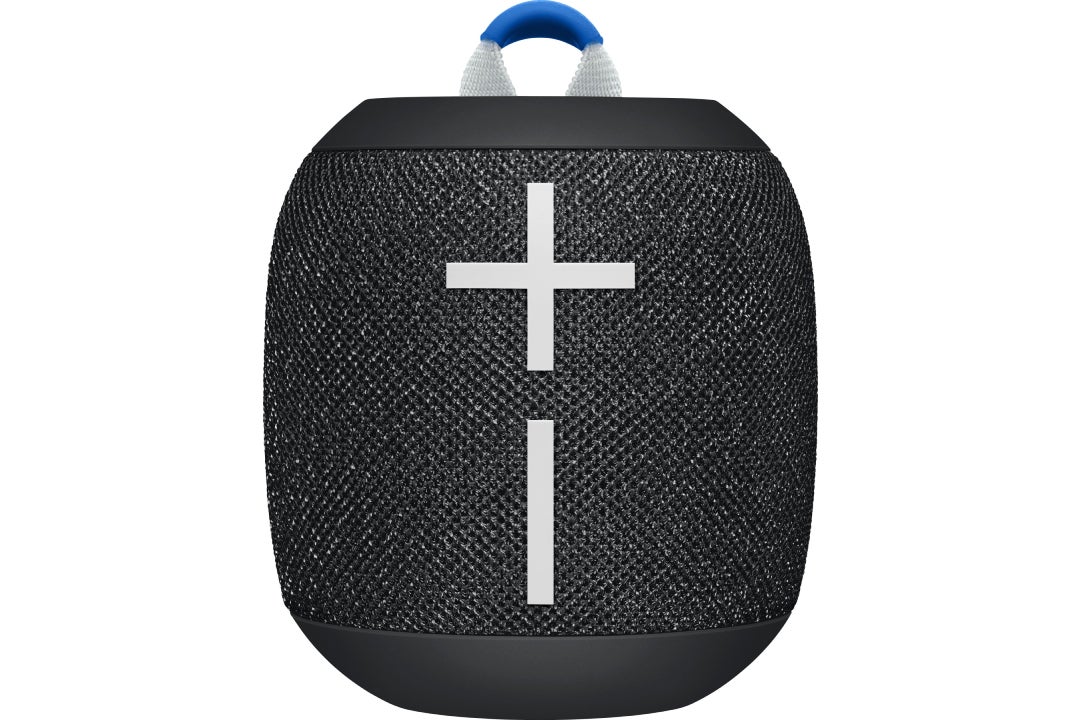 UE WONDERBOOM 2 dust and waterproof Bluetooth speaker
As for the sounds itself, it is not the best you will hear, but it does the job. It's strongest suit is in the mid-range frequencies, which makes it perfect for listening to more vocal music or podcasts. The bass, on the other hand, is not something to write home about.
The battery life on the UE Wonderboom 2 will last you somewhere between 10 to 13 hours.
Get your UE WONDERBOOM 2 here:
Soundcore Flare 2
The Soundcore Flare 2 is a Bluetooth speaker that is not just waterproof, but also adds some pazzaz while doing it. The added LED lights on the top and bottom add a tasteful "flare" to this beautiful speaker, without making it feel like its too much.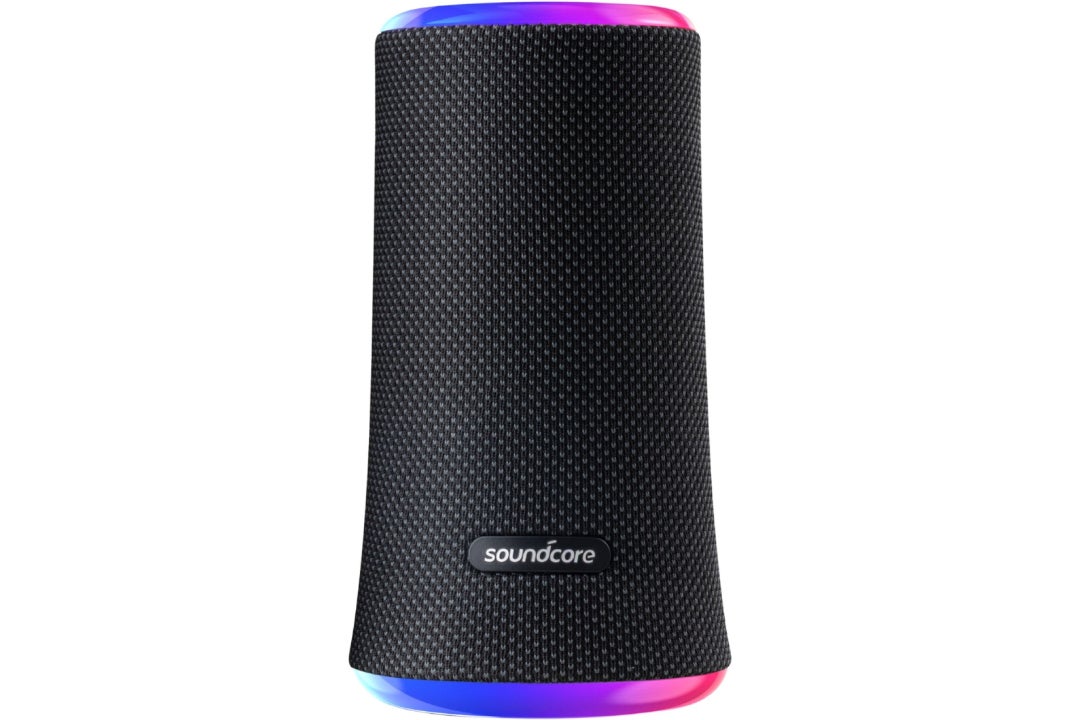 Soundcore Flare 2 360° Bluetooth speaker
The sound quality is alright for the price, and there is also the benefit of its 360 degrees audio, which ensures you are getting the same experience no matter on which side of the Flare 2 you are. Another benefit is that it will float when placed in water, however, you have to let it dry in order to get the sound back to normal.
The battery of the Soundcore Flare is decent, lasting about 12 hours on a full charge.
Get your Soundcore Flare 2 here:
Soundcore 3
Last on our list we have another budget-friendly option. The Soundcore 3 is a popular little Bluetooth speaker that offers great sound for a great price. While the bass is not that powerful, it is clear. The mids on this little guy are also decent, while the highs are okay when not at high volume.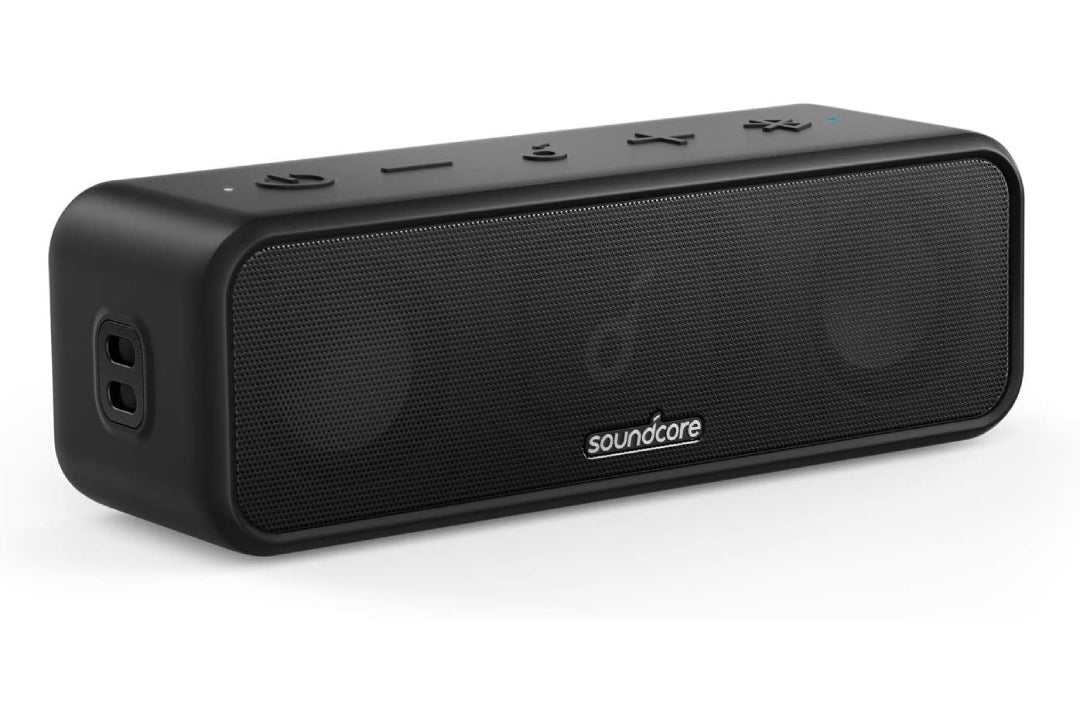 The Soundcore 3 budget Bluetooth speaker
The Soundcore 3 is IPX7 Waterproof and will float in the water, with no drying needed once taken out. Another huge pro is the amazing battery life, which can last up to 24 hours depending on your use.
Get your Soundcore 3 here: