Best tablets of CES 2015: PhoneArena Awards
7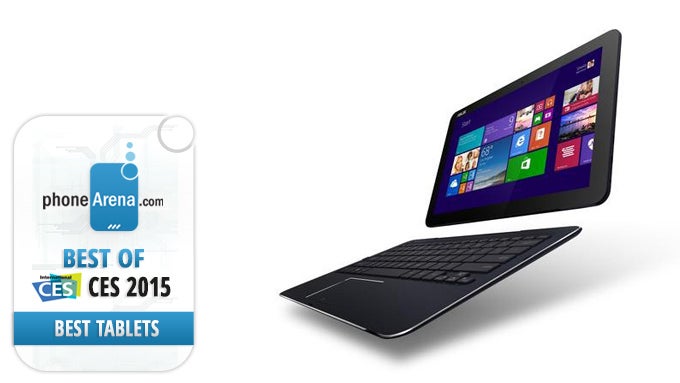 The Consumer Electronics Show, held between January 6 and January 9 in Las Vegas, is where any geek would love to be right now. It is where the latest electronic gadgets and the newest advancements in technology are being showcased, usually for the first time in front of a major audience. This includes tablets – last year's edition of the expo brought us the Galaxy Tab PRO series, as well as a number of sweet slates by Asus and Lenovo, to give a few examples. This year, however, there don't seem to be a whole lot of noteworthy tablets at the expo. At the same time, there's this Best Tablet award that we have to give away, and we see no tablet more suitable than the members of Asus's Transformer Book Chi family.
The Asus Transformer Book Chi series

The Transformer Book Chi lineup by Asus is comprised of three 2-in-1 tablet-laptop hybrids – they act as Windows laptops when paired with their respective keyboard docks and can be used as stand-alone tablets when detached. This makes them highly versatile. Any Transformer Book Chi can be used to get some serious work done, yet will also keep you entertained with its gaming and multimedia capabilities. On top of that, they're thin, light, and provide long battery life for a slate running full-blown Windows 8.1.
Leading the gang is the
Asus Transformer Book T300 Chi
, which gets its processing power from Intel's new Core M processor, clocked at either 0.8 or 1.2GHz. This does not sound like much, yet Intel claims the chip is up to three times more potent than Qualcomm's Snapdragon 805. And it requires no fan to cool it down, unlike the case is with other Windows-based tablets. Its front is graced by a 12.5-inch screen with high brightness output and 2560 by 1440 pixels of resolution. Up to 128GB SSD storage and 8GB of RAM are also found inside its ultra-thin 0.30-inch (7.6-mm) body. All in all, the Transformer Book T300 Chi is an ideal pick for anyone in need of a device combining the best of the tablet and laptop worlds.
With its starting price of $800, however, the flagship Transformer Book Chi model isn't cheap. Thankfully, there's also the much cheaper
Asus Transformer Book T100 Chi
, which will start at just $400. And that's an adequate price for what you get in terms of hardware: a 10.1-inch 1080p display, 2GB of RAM, 64GB of storage, 5MP main and 2MP front cameras, and an Intel Atom Z3775 quad-core processor clocked at up to 1.46Ghz. When paired with its keyboard dock, the Asus Transformer Book T100 Chi measures only 0.52 inches (13.2 mm) in thickness and weighs just 2.38 pounds (1080 grams).
And on the low end of the series there's the
Asus Transformer Book T90 Chi
, which starts at a rather aggressive $299. In exchange you get a slim and lightweight convertible device, with an Intel Atom Z3775 processor 1GB of RAM (upgradeable to 2GB), a pair of cameras, 8.9-inch IPS display, and 32GB of storage. Plus, the battery can get you through 9 hours of internet browsing time, according to the manufacturer. Overall, the Transformer Book T90 Chi seems like an excellent budget PC and tablet all-in-one device, and a great value for money proposition.
And these, guys, were the best tablets we got to try at CES 2015. To learn more about them, follow the links below and go through our hands-ons.
Asus Transformer Book Chi hands-ons