Best rugged armor cases for the HTC 10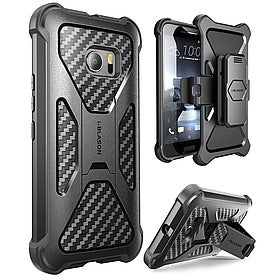 We've scanned the interwebs looking for the best rugged and armor cases for the
HTC 10
and we're ready to highlight some quality products!
The HTC 10 may not be the commercial success that the iconic smartphone maker needed. However, many of those who've spent top dollar on their HTC 10 love their handset and would like to keep using it for as long as possible. If that sounds like you, then this you've definitely landed in the right place as today we're going to talk about the best rugged armor cases for the HTC 10.
In what follows, we'll highlight the best HTC 10 rugged and armor cases that you can purchase in the US. We've strived to include some diversity so that you guys can find a case that's closer to your personal taste.
As always, drops us some suggestions in the comment section below and we'll make sure to update our roundup of the best rugged/armor cases for the HTC 10.
Zizo Bolt
Spigen Rugged Armor
While most rugged cases are made out of a combination of materials, Spigen's Rugged Armor Case for the HTC 10 adopts single-layer TPU build.
If you're looking for advanced protection for your phone, Spigen also offers a beefed up rugged case for the HTC 10 called the Neo Hybrid Case.
This one comes with a soft polyurethane inner layer that's tasked with absorbing shocks and a rigid PC outer frame that helps protect the phone against bumps and also adds grip and style to the equation.
Moving on to another popular smartphone case maker, the Incipio Dual Pro Hard Shell Case puts rugged protection first and looks second. This is another two-layered case: a hard polycarbonate frame provides impact protection while the soft TPU inner core absorbs shock.
Moving on to another rugged HTC 10 case that offers both ultimate protection and a built-in kickstand, it's time to talk about the i-Blason Prime.
Seidio Surface
If you're often using your HTC 10 for watching movies or any sort of video content, then you might be interested in a rugged case that also doubles as a kickstand. If so, check out the Seido HTC 10 case.
Moving on to a case with a more angular look, the Body Glove HTC 10 case features a unique octagonal design that some may love (although some certainly won't). The Body Glove is thinner than most cases on the list, but still offers a durable outer layer that protects the phone.
The Evo Check is one of the most expensive rugged armor HTC 10 cases that we've included in this list, but may be well worth its salt if you're looking for extreme drop protection without adding too much bulk or ruining the beautiful design of the HTC 10.