The best power banks for your iPhone (2019 edition)
3
We may earn a commission if you make a purchase from the links on this page.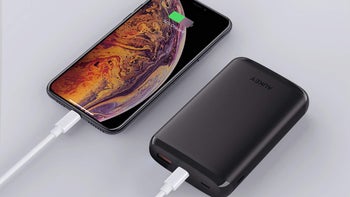 An interesting trend can be observed with modern smartphones over the last several years – we see considerable advancements in nearly all areas of design, hardware, and software, but battery life always seems to improve at a slower pace.
The Lithium-ion batteries found in virtually any smartphone have served us well for many years, but the technology certainly has its limits. Most handsets will shut down if they don't get some quality time with a charger after a day or two of intense usage, and iPhones are no exception. This is why portable power banks are still some of the most in-demand phone accessories.
The portable charger market is huge and choosing the right model can certainly be a challenge. If you happen to be an iOS user looking for the best power bank, you've come to the right place. Below, you'll find our top suggestions for the
iPhone 8
,
8 Plus
,
X
,
XR
,
XS, and XS Max
. The gadgets on our list are highly-rated, come from respectable brands, and are bound to charge your iPhone in a quick and convenient way. Let's check them out!
Contents:
The great all-rounders
The picks in this category offer a good balance between size, battery capacity, price, and functionality.
Aukey 10,000mAh power bank
This Aukey model is probably the best middle-of-the-road power bank you can buy right now. The gadget supports both 18W Power Delivery and Qualcomm's Quick Charge 3.0. This means that you can charge your iPhone and any high-end Android phone in a very swift manner, making it a suitable purchase for your family.
Thanks to the 10,000mAh battery inside, you will be able to top up your iPhone around 3 times before you need to recharge the power bank itself. A USB-A to USB-C cable is included for recharging, but it's possible to recharge the bank with a lightning cable as well. Last but not least, the bank also supports a low-current charging mode that is great for wireless headphones and wearables. The inclusion of these features make this model a bit pricey for a 10,000mAh power bank, but we feel that the added functionality is well worth it.
Omars 10,000mAh LimeLight power bank
If you're looking for something affordable that will get the job done, then the Omars LimeLight 10,000mAh power bank is a device you might want to consider. The portable charger is twice as cheap as the Aukey model, yet it features the same 18W Power Delivery that will get your iPhone from 0 to 50% in about 30 minutes. Furthermore, there's a digital display that will show you exactly how much juice you have left in the power bank. There are 3 port types that you can use - USB-C, USB-A, and Micro-USB - meaning that you can charge just about any gadget.
On the downside, the power bank's dimensions stand at 6.5 x 3.6 x 1 in. This means that it is noticeably larger than the Aukey offering, with both devices weighing in at around half a pound. Also, there is no fast charging specifically for the iPhone XS. Yes, we are also mystified.
Power banks with lightning cable
Apple's original lightning cables are selling for prices upwards of $19. If you want to skip this purchase, it's best to get a power bank that includes such a cable from the get-go.
Nucharger PD 20,100mAh Power Bank
There's a lot to love about the Nucharger PD 20,100mAh power bank. It has a large capacity, supports PD 2.0, and has a charging power of up to 30W, meaning that it can quickly charge your iPad and MacBook as well. Additionally, the charger is affordable and compact for its category.
The power bank also comes with a 3-in-1 cable with lightning, USB-C, and micro-USB endings, which makes it quite versatile. The Nucharger features one USB-C in/output with PD 2.0, and two USB-A 5V/2.4A outputs with "smart charging".
Jackery Bolt
Invalid image meta
The defining key feature of the Jackery Bolt is its two built-in cables (an MFI-certified lightning one a micro-USB one), which spares you the hassle of donning external cables yourself. While the supplied USB cable is merely a MicroUSB one, the power bank has an open port for you to connect your own cable in.
The capacity is 6,000mAh, which ensures a couple of full charges. Oh, you can also make use of pass-through charging - you can charge up two devices while also juicing up the power bank itself.
Power banks with wireless charging
If you own an iPhone model from 2017 or later, congrats, you can use wireless charging! The below power banks can top up your phone without the hassle of ports and chords.
Hokonui 10,000mAh 10W Fast Qi Wireless Power Bank
This 10,000mAh power bank from Hokonui seems to tick all of the right boxes. It features both Power Delivery and Quick Charge 3.0, supports 10W wireless charging and the 7.5W maximum that iPhones can get charged at, and is rather affordable. It's a bit on the thick side, but otherwise, the device is smaller than the iPhone X. The built-in digital display is always a welcome feature, and the power bank even has a phone holder attachment that you can use.
Kuppet 20,000mAh wireless power bank
If reliability is top in your priority list, look no further. This wireless power bank is easily one of the most highly-rated products on Amazon - 99% of the 1,120 customer reviews have rated it 5/5 stars. The 20,000mAh battery inside should be able to fully charge your iPhone at least 5 times. You can charge up to 3 devices at the same time thanks to the two outputs and wireless charging pad, but regrettably, no fast charging is supported.
High-capacity portable chargers
For those of you that need a power bank capable of charging an iPad and MacBook in addition to your phone. If you're looking for something slim and compact, stay away from these chargers.
Aukey 30,000mAh power bank
This Aukey model does not only offer 30,000mAh of backup power, but it also supports ultra-fast charging thanks to its support of the Qualcomm Quick Charge 3.0 and USB-C Power Delivery standards. The power bank will charge your MacBook as fast as the original wall adapter for the laptop.
When charged up, this power bank can get you away with being away from civilization for almost a week - it can fully charge up an iPhone XS up to 9 times and you can get almost 2 full charges on a 12-inch MacBook Pro. Of course, this product is neither delicate nor slim - with a weight of 1.22 lbs, you will definitely notice when the power bank is in your backpack.
On the bright side, Amazon is currently running a promo that allows you to save $20 off the usual MSRP. The deal might end soon, so act fast if you're interested.
Anker PowerCore+ 26,800
The Anker PowerCore+ is top in the high-capacity department, provided that you are willing to pay the price. The 26,800mAh battery inside can charge a MacBook Pro 13 fully with some juice to spare and an iPhone X more than 6 times. Furthermore, charging times for the power bank itself are reduced dramatically thanks to the 30W USB-C wall adapter included in the pack (you can use it to charge your MacBook as well). This model features 1 USB-C (30W) and 2 USB ports (5V/3A each) and is compact for its class.