Best new iPhone and iPad games for January 2020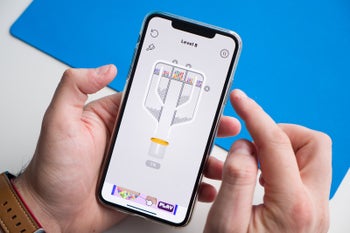 The first month of 2020 is already over and it's time to see what new games graced Apple's App Store in January. With a release window of just one month, the pickings are slim, but still, we selected a few games that are worth checking out.
Top new free games for January 2020
In case you're not familiar with free mobile games, here's a quick heads up: they're either relying on a special in-game currency you purchase with real money, or they're riddled with ads. There's no way around it. They do, however, offer real gameplay without spending any money, but you should arm yourself with patience. That being said, let's take a look at this January's lineup.
Epic Race 3D
The first few courses might seem like a breeze but later you'll find yourself tumbling off the track more often than not. And that's what the game is ultimately about.
Racing against other players adds a nice element to it and at times leads to some funny situations.
Word Relax!
Pull the Pin
Top new paid games for January 2020
Now we're getting to the good stuff. Sure, the games below will set you back a few bucks, but you won't waste any time waiting for ads or any timers that put a hold on your gameplay.
Pascal's Wager
Plus, you can play the game with each of the four different characters, which gives extra room for replayability.
While being released in January the game is still quite new, the developers promise that extra content will be available as time goes by.
Maze Machina
The levels get challenging quickly so don't expect to breeze through the first 20 or so like in other games. It's a game that just feels cozy to play, you definitely won't regret spending $2 on it.
Ultimate Lion Simulator 2
The game is far from flawless but that doesn't mean it won't entertain you and at barely a $1, it might be worth if just for the chuckles you'll inevitably get out of the gameplay.
Papa's Bakeria To Go!
This time, you're baking pies and lots of them. The number of combinations is almost endless with all the different crusts, fillings and toppings available. Each customer will want something very specific, of course, and it's your job to fulfill the order perfectly.
The game offers plenty of features for you to unlock, keeping the progress meaningful and entertaining. What are you waiting for? Start baking!