Best new Android and iPhone games of the week
6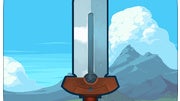 Let's start off the week with some fun! We're kicking off a weekly column that we plan to publish on Mondays to present you with our favorite games of the week. We've set no limits to the genre, platform, or price, but as all things 'favorite', PhoneArena's games of the week choice will be subjective. We can't guarantee that you'd love the genre of the game we've picked, but it should be a good choice for those who do. And one thing that our games of the week won't be is of poor quality.
With no further ado, we start our selection with the game that we loved the most this week, and continue with the runner-ups. Take a look below.
Game of the week: Sneaky Sneaky
| | |
| --- | --- |
| Developer: Naiad Entertainment | Download: iOS |
| Genre: Stealth-adventure | Price: $2.99 |
Sneaky Sneaky captured our attention with its cute, likable visual style and a good take on the tactical stealth game genre. As the game implies, you're a thief that has to hide in the shadows and wait for the right moment to strike. The story revolves around the ambush of your rogue Sneaky, as you have to reclaim the treasure he originally stole.
The gameplay is rich and being able to approach each challenge differently brings a nice level of freedom. Enemies also get smarter as you play along, and there are some nice RPG elements to the game as your hero evolves.
Runner-ups:
Magazine Mogul
As your readership grows, you get to write more features and even assist local authorities make the right decision for city planning.
Evoland
| | |
| --- | --- |
| Developer: Shiro Games | Download: iOS, Android |
| Genre: Action-adventure | Price: $4.99 |
The action adventure free-roaming game Evoland arrives on mobile after a 2013 release on Steam. The game is a true meta adventure that walks you through the history of gaming starting off with monochrome and going to color; beginning with limited movement to a free roaming style, and unlocking features including Final Fantasy-like boss battles.
Evoland has really got a little bit of everything, and it will be dearly appreciated for those who have been playing games since a very early age.
Plug & Play
| | |
| --- | --- |
| Developer: Etter Studio | Download: iOS |
| Genre: Action-adventure | Price: $2.99 |
Plug & Play is more of a visual novel, an experiment in story-telling rather than a full-blown game, but it is interactive, it is different, and for those of you who want to plug off the boring world and spend 10 minutes in this immersive story, it's definitely worth checking out.
ZigZag
| | |
| --- | --- |
| Developer: Ketchapp | Download: iOS, Android |
| Genre: Casual | Price: Free |
A simple, casual game where you tap to zig zag your way up as far as possible and collect diamonds along the way, ZigZag offers trendy, minimalistic visuals a la Monument Valley. We love the gameplay, but the god-awful ads that plague the game leave it at the last place of this week's selection of best games.