Best new Android and iPhone games of the week (July 21st - July 27th)
2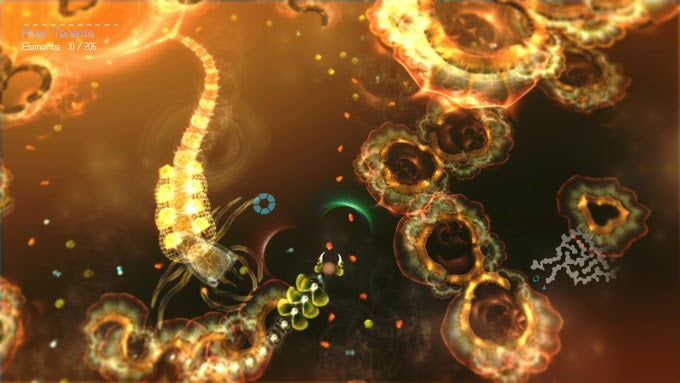 Let's start off the week with some fun with the best new Android and iPhone games so far in July 2015! In our weekly round up of the best new Android and iPhone games we introduce you to everything new and worthy with no limits to the genre, platform, or price. We can't guarantee that you'd love the genre of the game we've picked, but if you do, chances are you'd spend hours playing one of these games.
The beautiful new Prune game is the headliner of this week's round-up
The beautiful new Prune game is the headliner of this week's round-up: it's an immersive experience with ever-changing visuals that leaves a mark and is not just another game that you'd forget in a week. The entertaining new Pac-Man Championship Edition DX is a throwback from the good old past bringing dynamic arcade action to your brand new smartphone.
Those two are hardly all that's worth talking about this week, and that's why we've summed up all the noteworthy new Android and iPhone games right below. Take a look and let us know your favorites in the comments below!
Prune
Price: $3.99
Genre: Puzzle Platformer
Prune is a love letter to trees. A game about the beauty and joy of cultivation. With a swipe of a finger, grow and shape your tree into the sunlight while avoiding the dangers of a hostile world. Bring life to a forgotten landscape, and uncover a story hidden deep beneath the soil.
Pac-Man Championship Edition DX
Price: $4.99
Genre: Arcade
This official mobile version of the famous arcade game allows you to travel through an intense maze collecting dots and destroying pesky ghosts, which can be eaten by collecting power pellets. Each of the 132 mazes provides exciting new challenges, as you blaze across them, your speed increases as you earn more points, but watch out; you will lose momentum fast if a ghost catches you.
Vault!
Price: Free (with in-app purchases)
Genre: Endless runner
Cascading cliffs, huge bouncy springs and those infuriating red balls! How far can you go? How long will you last? Can you get the highest score? Classic intuitive physics arcade action with easy to use, hard to master tap and hold controls, mean that things aren't as simple as they seem.
Wars and Battles - Strategy & History
Price: $6.99
Genre: Strategy
Wars and Battles is a platform of turn-based wargames that simulate historical battles and campaigns over several centuries and continents. Wars and Battles offers you rich and immersive graphics, intuitive yet sophisticated gameplay and hours and hours of game. Integrating the sophistication of traditional wargames into tablets is our commitment to players fond of strategy, history or the military.
Million Arthur
Price: Free (with in-app purchases)
Genre: Card game
Pull Excalibur from its stone and prove that you are worthy of holding Britain's fate in your hands. Defend the shores of Camelot from invaders across the southern seas in this manga style illustrated story.
Divide by Sheep
Price: $2.99
Genre: Math puzzler
Divide By Sheep is a math puzzler about the Grim Reaper's devious plan to make some sheepy friends. Grim can only befriend the dead, so he decided to unleash a great flood and drag the sheep under. Now stranded on small islands and sinking fast, the sheep need you to help them reach safety.
Down the Mountain
Price: Free (with in-app purchases)
Genre: Arcade
Down The Mountain is a fast-paced arcade game with the goal to descend from an infinite mountain, while avoiding many obstacles and enemies, and grabbing stars and power-ups.
The Mesh
Price: $1.99
Genre: Puzzler
The Mesh is a game where you play with numbers: combine the numbered tiles and find the best way to achieve the highest score possible.
Tap Quest: Gate Keeper
Price: Free (with in-app purchases)
Genre: Tap game
This intense tapping game features beautiful retro-styled
pixel
art graphics and its story revolves around you trying to stop the resurrection of the colossal Dragon by casting blizzard spells and slaying monsters with a flame-bursting sword.
Sparkle 3 Genesis
Price: $3.59
Genre:
In this floating world game, you control the fate of a single dreamlike organism through the course of it's life. Explore the vast ocean in search of micro-elements that will help you evolve from a tiny speck of life into a magnificent Sparkle. You can choose whether your Sparkle will become a quick and relentless hunter, a peaceful plant-eater or a creature whose feature lie in between.
Sometimes You Die
Price: $1.99
Genre: Puzzler
Dying is not a desirable outcome in most games, but not here - here you need to figure out how to die in the right way to pass to the next level.
Adventure Time Puzzle Quest
Price: Free (with in-app purchases)
Genre: Match-3 RPG
The Ice King's got a rat problem. Princess Bubblegum needs saving. And Flame Princess is ready to declare war! And in this game you get to go on quests to help the residents of Ooo by teaming up with your Adventure Time friends in a match-3 themes RPG.