Best new Android and iPhone games of the week (August 18th - August 24th)
4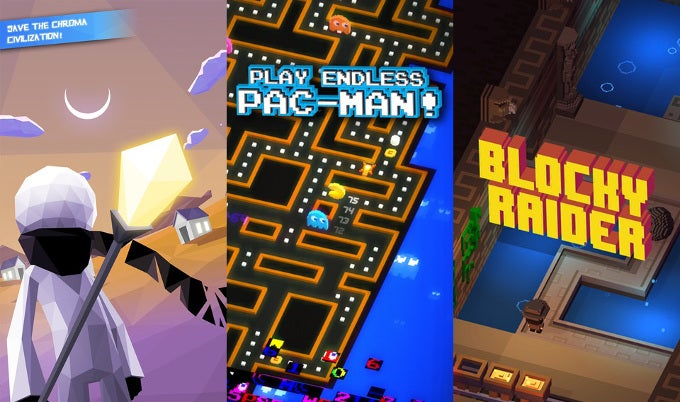 Let's start off the week with some fun with the best new Android and iPhone games so far in August 2015! In our weekly round up of the best new Android and iPhone games we introduce you to everything new and worthy with no limits to the genre, platform, or price. We can't guarantee that you'd love the genre of the game we've picked, but if you do, chances are you'd spend hours playing one of these games.
Final Fantasy VII and some great new indie games
The big news in the mobile gaming world this week is without a doubt the release of Final Fantasy VII, the iconic Japanese RPG that many of us spent countless hours playing on PlayStations back in the day. It is well ported to iOS, coming with two options for the controls, and the same retro graphics that you may remember.
Apart from that, though, we were pleasantly surprised by some creative new indie releases such as The Path to Luma, a beautiful game that will be remembered as an experience and not just game alone. With no further ado, take a look at our full selection of the best new Android and iPhone games from last week right below.
Final Fantasy VII
Price: $15.99
Genre: Japanese RPG
Square Enix has officially brought Final Fantasy VII to the iPhone and iPad, and it's a remake of the game that gamers of age will remember from the first PlayStation, as well as PC. The controls is what gamers will be curious about, and that's one area, where Square Enix has done some extra work with two types of controls: a virtual analogue controlled anda 4-way fixed digital control pad that you can adjust in terms of opacity. Keep in mind that Final Fantasy VII is a large game: it will require at least 4GB of free space on your device, and the list of recommended iOS gadgets it runs on starts with iPhone 5s or later, 3rd gen iPad or later, iPad mini 2 or later, all running on iOS 8.x. All else could run at too slow of a frame rate for you to fully enjoy the game.
Horizon Chase
Price: $2.99
Genre: Arcade Racing

Horizon Chase is a racing game inspired in the great hits of the 80's and 90's like Out Run and Lotus Turbo Challenge. It features 16-bit graphics that bring you back years in time with its graphics style, but it also features a very dynamic arcade racing experience. The tracks are varied, taking you on a trip 'round the world: from deserts to mountains, from day to night.
The Path to Luma
Price: Free
Genre: Adventure Puzzle
Powered by NRG, The Path to Luma is a free adventure puzzle game with no ads or in-app purchases. Play as SAM, an android sent by the Chroma civilization to save the abandoned planets of their galaxy, and fulfill a quest to harness the power of clean energy. Explore 20 worlds and solve puzzles in this game.
Pac-Man 256
Price: Free
Genre: Pac-Man!
A new game from the creators of Crossy Road, Pac-Man 256 is a new take on the Pac-Man endless maze concept, but this time with surprising traps, power-ups that make the whole action a lot more dynamic, and a new super villain "The Glitch".
Dead Synchronicity
Price: $4.99
Genre: Adventure
Michael woke up, not knowing who he was or what was happening around him. A strange plague drives people into distrust and despair. The pathetic remains of civilization live under the iron fist of the military. Help Michael to save himself from his own crumbling reality. Face a sick, merciless world that seems doomed. A world, where past, present and future ceased to exist.
Cartoon Survivor
Price: Free
Genre: Endless runner
Cartoon Survivor is a new and interesting adventure runner set in a dynamic 3D prehistoric world, where you run, jump and glide your way through hazardous obstacle courses full of feisty creatures like dinosaurs, mammoths, tigers and snakes: all to help Doo Doo the Dodo bird get to the finish line before time runs out.
Manowar
Price: $1.99
Genre: Puzzle
Manowar is an indie puzzle game with clever mechanics and a distinctly original visual style that is free to play (with no hidden in-app purchases). It has levels spread across 4 stages, and offers hours of gameplay, plus you can play it using just one hand.
Blocky Raider
Price: Free
Genre: Runner
Here is something that looks like Crossy Road, but it's not Crossy Road. This neat game with a distinct visual style is not a direct clone and offers an interesting twist on the gameplay with new challenges standing in your way, but at its core it retains the same idea as the addictive Crossy Road.
Legions of Steel
Price: $9.99
Genre: Turn-based tactical game
Legions of Steel is a tactical board game where players fight battles in a dark and dangerous environment. The Empire of the Machines is threatening the entire universe. The League of Aliens and the U.N.E. (United Nations of Earth) have banded together to defend the galaxy from the invader. Battles are raging everywhere, but it is inside the twisting corridors of the Machines underground production facilities, that the tactical upper hand is taken. And the war is won. That's what the story revolves around, while the game itself comes with 2 playable factions with their own units and equipment, 2 Single player campaigns in an immersive setting, and 15 scenarios for single player or multiplayer.
LEGO Batman: Beyond Gotham
*New for Android only
Genre: Action Adventure
You get to play as Batman and form alliance with other DC Comics characters in this new action-adventure release. Play and unlock more than 100 characters with amazing powers and abilities, including members of the Justice League, BIG LEGO Figures such as Solomon Grundy, Lantern heroes and villains, and much more. Grant heroes even more powers with super suits such as Batman's bomb-igniting Demolition Suit, Robin's elite hacker Techno Suit, Cyborg's incognito Stealth Suit, and the Joker's tricky Decoy Suit.