Best iPad Pro cases and covers
2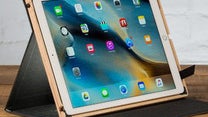 Make fun of it as much as you want, but the
iPad Pro
remains one of the better tablets money can buy. Sure, it is pricey and yes, it is bigger than the average slate, but one must think of Apple's tablet as a high-grade instrument – as a powerful tool that professionals and creative individuals would truly appreciate.
And let's be honest – none of us would mind receiving an iPad Pro as a gift for the holidays.
Whether you're getting an iPad Pro for yourself or for a loved one, you might want to get a case for it as well. Not because the tablet might break someone's toe if it gets accidentally dropped. Bulletproof the iPad Pro is not, and slipping it into a protective case would help it withstand the tests of time. Besides, protecting pricey investments is always a good idea.
But what are the best iPad Pro cases in existence, beside Apple's own iPad Pro offerings? That's the question we felt like answering today, so we combed the internet in search of the best iPad Pro case. What resulted was the list of cases in the slideshow below. Flip through it and see what are the best iPad Pro cases right now.