Best Buy will give you at least $200 toward the Surface Pro 3 with a tablet trade-in
15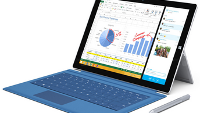 If you're looking for a great deal on the
Microsoft Surface Pro 3
, Best Buy has a promotion that will allow you to save $200 or more on a purchase of the slate. The deal is available through Saturday. Come into your local Best Buy big box location, trade-in your working tablet and you will receive a $50 Best Buy gift card, and a coupon for $150 off the price of the Surface Pro 3.
Keep in mind that Best Buy reps know the difference between an e-reader and a tablet, so you are not going to be able to pull the wool over their eyes. Also, tablets with water damage and cracked screens will not be accepted so you might as well forget about using a broken unit as a trade.
At Best Buy, the Surface Pro 3 ranges in price from $799.99 for the 64GB model powered by the Intel Core i3, to the $1949.99 that the retailer charges for the 512GB model that is driven by an Intel Core i7. If you want to purchase the Surface Pro 3 Type Cover, Best Buy has them in a variety of colors priced at $129.99.
If you've been thinking about purchasing a new Surface Pro 3, might as well get some credit for the tablet you use now. Remember, this deal is over after Saturday, and is only available in Best Buy stores.
source:
PCMag