Best Buy throws in a $75 gift card with the installment purchase of an Apple iPhone SE
13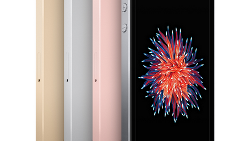 Very soon, the current generation iPhone models will become the previous generation models. This will give consumers the opportunity to save some cash on the purchase of the
Apple iPhone 6s
,
Apple iPhone 6s Plus
and the
Apple iPhone SE
. Apple will
introduce the new phones on September 7th
. Pre-orders are said to begin on September 9th with
the actual launch taking place on September 16th
.
If you don't care if your iPhone can be submerged in up to 3 feet of water for up to 30-minutes, or whether it is powered by the A9 or A10 chipset, once the new models are launched you are bound to save money on the older iPhone devices. If you can't wait to make your purchase, some retailers are offering deals on the current iPhone models right now.
Take Best Buy. Purchase from them a carrier branded 4-inch Apple iPhone SE with either 16GB or 64GB of native storage, and you will receive a $75 Best Buy gift card. Keep in mind that you must buy the phone using an equipment installment plan. Using the 30-month AT&T Next plan, the 16GB iPhone SE is $13.34 a month while the 64GB model is $16.67 a month. On Verizon and Sprint, the 16GB iPhone SE is $16.67 a month, and the 64GB iPhone SE is $20.83 a month, both over 24 months. Color options for all three carriers are Gold, Silver, Space Gray and Rose Gold.
With the same design as the
Apple iPhone 5s
, the iPhone SE has many of the same components used on the Apple iPhone 6s. That includes the A9 chipset, and the 12MP rear camera. The iPhone SE uses the older Touch ID version, which is a tad slower than the current one. It also has the older 1.2MP FaceTime camera. While it does offer Live Photos and Apple Pay, 3D Touch is not supported. Consider this to be the "Compact" version of the iPhone.
If you're interested in buying the iPhone SE and receiving a $75 Best Buy gift card, you can visit your local retail outlet or visit BestBuy.com.

Buy the Apple iPhone SE from Best Buy using an EIP and receive a $75 gift card
source: BestBuy