Best Buy stores starting to see Motorola Droid accessories arrive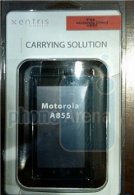 There's still plenty of speculation around the release of Verizon's Motorola Droid – one clear date that stands out in mind is midnight October 30. Time is ticking down until its eventual release; especially when the Droid web site has some kind of coded countdown going on. And now that there are television spots airing about iDon't, Verizon is building up the hype around the Android powered phone. Another good indication that the Droid is almost upon us is that one of our Best Buy tipsters was able to snap up a shot of one recent accessory that they received in their inventory. It clearly shows that it's meant for the Motorola A855 – and we know how often the big box retailer receives inventory on accessories for big product launches. Unfortunately they have not received a definitive date on when they will commence selling the Droid. So maybe the rumors might have some validation on that date seeing that Best Buy has begun taking in Droid accessories.
Thanks to our tipster!
Motorola Droid A855 Preliminary Specifications