Best Buy accounts for 12% of U.S. smartphone sales
20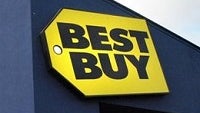 Ok, raise your hand. Who out there likes to run an errand to Best Buy, even if it's to buy a new microwave, so that you can look at the phones? Well, we really can't see you through the screen, so hands down please. Actually, it would appear that many of us don't stop at just looking at smartphones at Best Buy. According to Consumer Intelligence Research Partners, 12% of U.S. smartphone sales are
rung up
at Best Buy.
The stats show that a tad more iOS devices are sold at Best Buy compared to Android devices. The graph also shows that the retailer sells more basic phones than BlackBerry branded handsets. And roughly 15% of AT&T's sales are conducted by the big box retailer as opposed to 10% of Verizon's sales that are handled by Best Buy. Sprint follows AT&T with a little over 14% of its sales made at Best Buy, and T-Mobile rings up a tad under 14% of its phone sales from the retailer.
"Verizon has more power relative to its competitors, both because of its nicely diversified base of operating systems and brands, and also its control over the customer experience"
-Mike Levin, Partner and Co-Founder, CIRP.
So which of the four major U.S. carriers makes the largest of its phone sales in-house? That would be Big Red as Verizon rings up 57% of its phone sales at its own stores. Sprint is next, with slightly over 50% of its phone sales made in Sprint stored. T-Mobile is third with sightly under 50% and AT&T brings up the rear, responsible for 47% of its own smartphone sales.
source: CIRP via
Forbes