Beautiful Widgets is now free with in-app purchases
14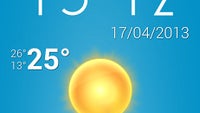 Beautiful Widgets is a pack of – you guessed it – widgets made to spice up any Android home screen, be it on a smartphone or on a tablet. In fact, it ranks among the most popular customization apps available on Android with well over one million downloads to date. But it has always been available only to those willing to spend $3.49 on it... until today.
A free version of Beautiful Widgets is now available on Google Play, so anyone can experience what it's like to give their homescreen an overhaul. Furthermore, there is additional content that can be unlocked using the so-called Getjar Gold, which is a virtual currency you can buy or receive after downloading and trying specific apps. The complete version of the app is still available as Beautiful Widgets Pro for those who prefer downloading it all without the need to deal with in-app purchases.
So go ahead and give Beautiful Widgets a try. It won't cost you a dime and if you like it, there's always the option to purchase extra widgets you find pretty. The gallery of screenshots below will give you a better idea as to what you've been missing out on all along.
Recommended Stories