Beats Music vs Spotify vs Rdio vs Google Play Music All Access: music streaming services compared
58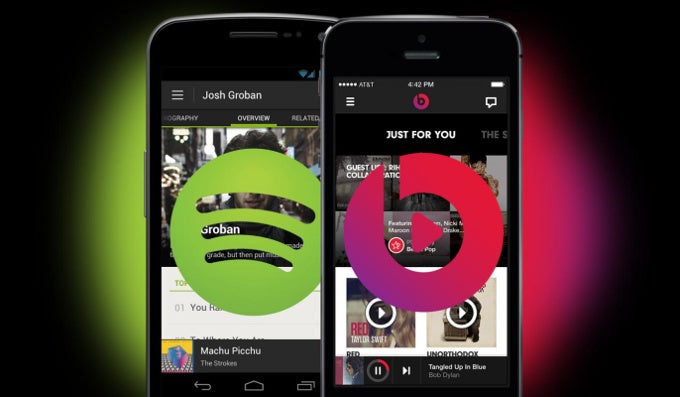 Apple's $3 billion purchase of Beats Music and Beats Electronics stirred the mobile music landscape yesterday, giving plenty of reasons for Spotify, the biggest music streaming out there, to feel the heat of competition.

But what does Beats Music offer more than the others? We compare Apple's new purchase against the three most popular on-demand streaming services out there: Spotify, Rdio and Google Play Music All Access.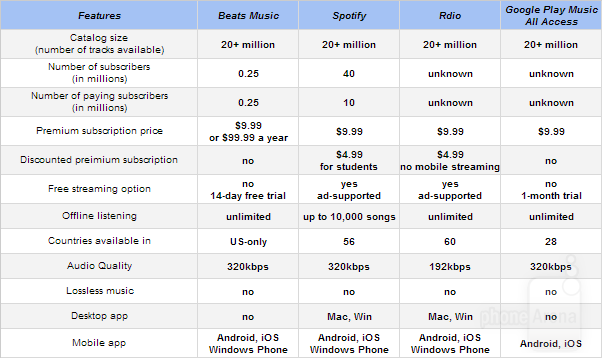 Beats Music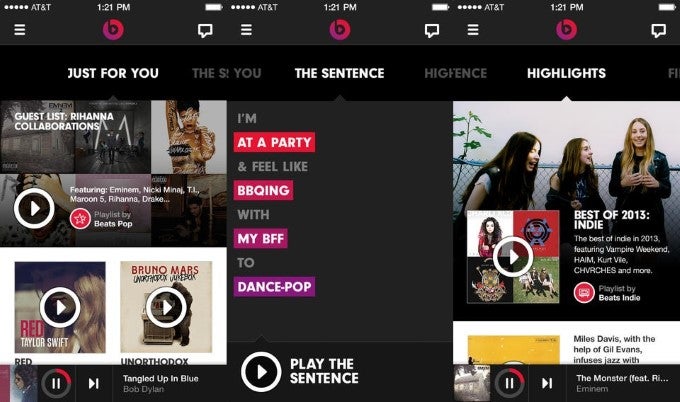 Apple is buying more than just a streaming service with Beats Music - it is buying time, as negotiating streaming rights with the big music labels is not something that happens overnight, and nor is building a team of creative sound experts. What it also claims to put its hands on is something Apple CEO Tim Cook has said is the only streaming model that gets it right - Beats Music does not have a free streaming option, and this 'limitation' will allegedly allow it to pay more to artists and be a profitable venture (unlike Spotify that has both a free, ad-sponsored mode that the majority of subscribers use).
The iTunes Store has been a huge success for Apple, but more and more users seem to prefer to pay a flat, $10 monthly fee for on-demand streaming, rather than dish the same amount to buy just one album (and often times, an album costs even more), so this is a way for Cupertino to future-proof its music service, a core product for the company.
Beats Audio is getting many things right - its music recommendation and discovery system is top notch, playback quality is great (but still lossy), and it's got a catalog the same size as the other big ones. What it lacks right now is scale (rumor is that it has around 200,000 subscribers), and that's where Apple seems to come in.
Spotify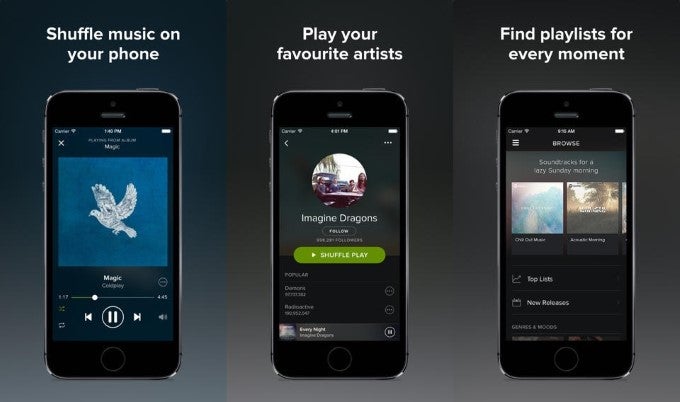 Spotify is the go-to music streaming service right now with a huge catalog of over 20 million songs. It stands out with its excellent music quality, availability of well-made desktop AND mobile apps, as well as the biggest community of subscribers - over 40 million at the time of this writing.
What got Spotify so far ahead? The company has been one of the first to offer a free, ad-supported streaming option in addition to the premium subscription. It has fought a fierce fight with biggest rival Rdio in the last few years, and recently it's taken an aggressive stance, quickly filling up the blind spots in its music catalog. It's got excellent quality on its side (you can actually pick between normal, high, and extreme quality playback on mobile, those standing for 96Kbps, 160Kbps, and 320Kbps, respectively).
Spotify is allegedly planning to go public this fall, and it would be one of the biggest IPOs of the season.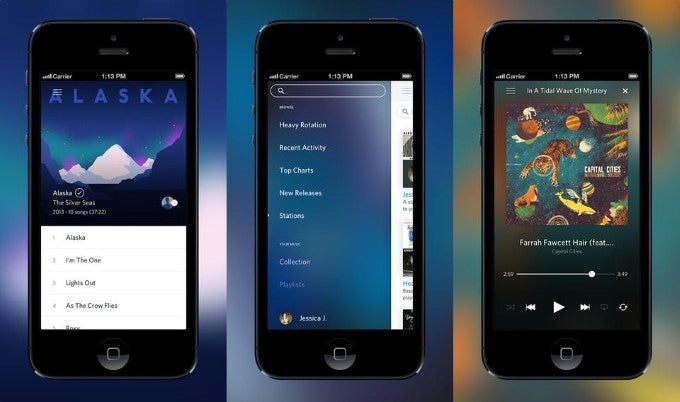 Just a few months ago, Rdio got a new chief executive officer with one main goal - to scale the service up. After being available for years with no free streaming options, a few months ago, Rdio has added ad-supported music streaming for free, and is counting on increasing its user base quickly.
The service has had quite a few exclusive artists and albums, and some of the top 100 Rolling Stone albums up until recently were only available on Rdio, but Spotify has caught up hugely in the past few months, and the gap is much less pronounced.
Good news is that - as a runner-up with Beats Music breathing in its back - Rdio will have plenty of motivation to move forward in quick steps. We hope this to translate to some aggressive moves in the near future, which is always good for the user.
Google Play Music All Access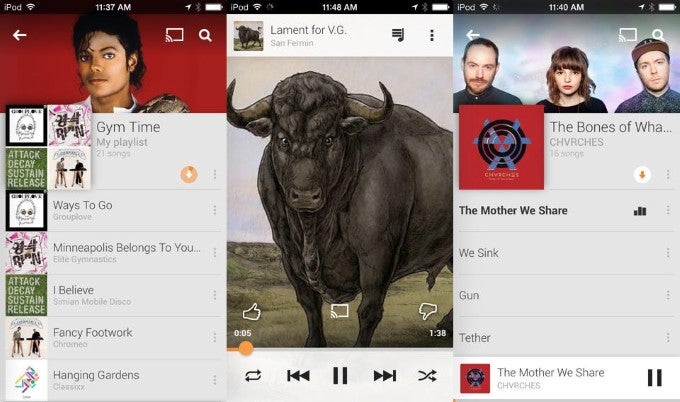 Google's Play Music All Access is the only music streaming service that has had the advantage of coming pre-loaded on Android. It is just as rich as other services, and being a native Android product, comes with its huge advantages - better integration with wireless accessories, and access to Google's cloud, where you can save up to 20,000 of your own songs.

Google Play Music All Access is also quickly expanding to new markets, and with Android's leverage across the globe, it definitely has the potential to outcompete the other three.
The other alternatives
Deezer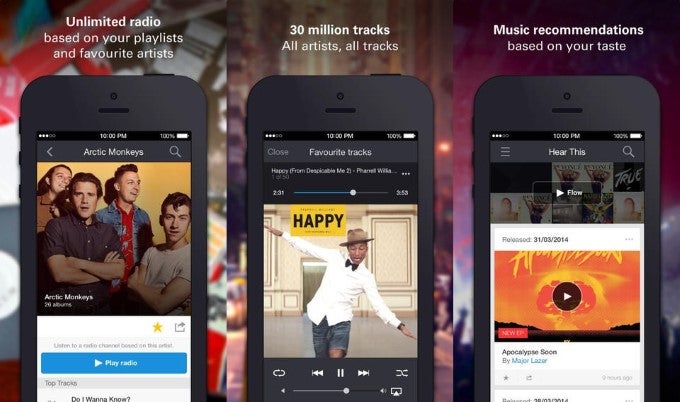 We omitted Deezer from the big four for simplicity sake, but in reality, the music service has grown very large, and brags about actually having the largest catalog of all the rest with over 30 million songs on board. This, however, does not mean that it has all 20 million songs of, say, Spotify, plus 10 million more - and the gaps can be quite huge.
Still, most of the essentials are on it, and Deezer has the big advantage of being available in over 180 countries (more than any other service we know of). It is not available in the United States, though, and that's one of its biggest issues.
Slacker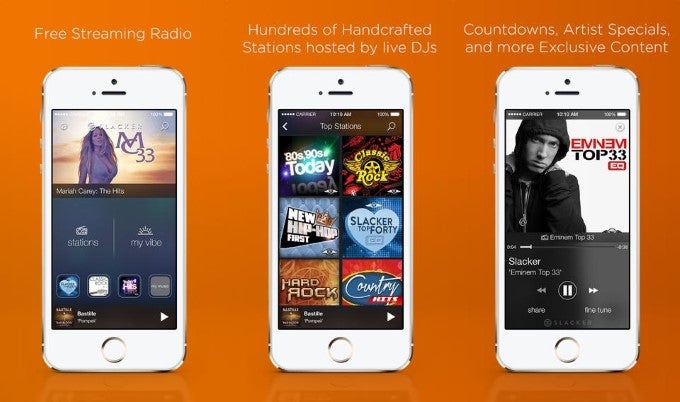 Slacker brings the best of both worlds as it delivers both radio service like Pandora and on-demand streaming like Spotify, but where it truly shines is in its radio capabilities. Slacker offers plentiful sports, comedy and talk stations to listen to, and having the rich variety of something like satellite radio. Comparing it with the big four services we talked about earlier, it's clear that this is one feature that they miss. One notable downside of Slacker is the sub-par music quality, though, and that's something that audiophiles would definitely scorn at.
WiMP Music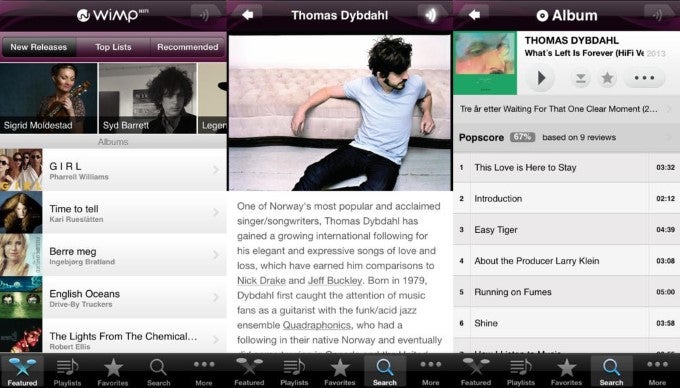 As good as 320kbps "extreme" (in Spotify's terms) quality music, it is still far from the experience you get from lossless music (or vinyl for that matter). WiMP, a Norwegian company, is currently the only music streaming service that offers truly lossless (FLAC on most devices) music streaming. Its one gigantic downside is the very limited availability. WiMP is only available in a handful of European countries, and it's not offered in the United States.
Samsung Milk Music (powered by Slacker)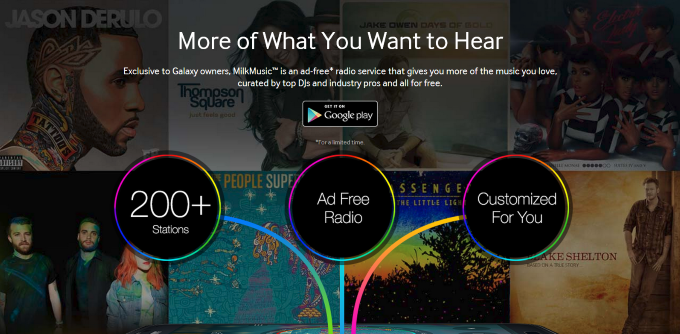 Samsung's recently introduced Milk Music is powered by Slacker and free to use (with ads) on Samsung (and only Samsung) devices. It's more of a radio streaming service rather than on-demand one, and its catalog is even shorter than the full one of Slacker, but it compensates with a gorgeous user interface.

Samsung has promised a premium option with - hopefully - true on-demand streaming, but until then, you're limited to the free one only.


Pandora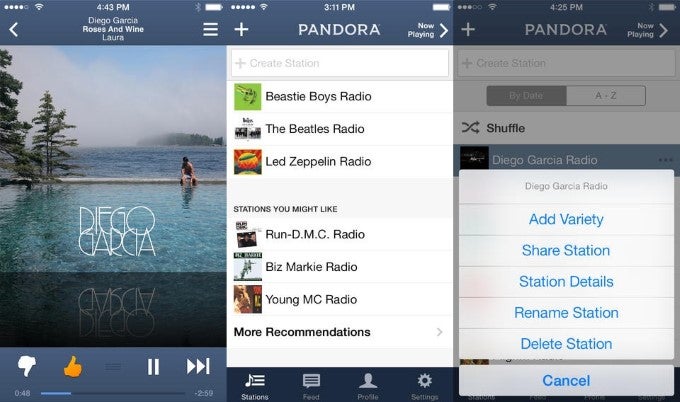 With a massive music library and great radio recommendation engines, Pandora is a radio-only service with no on-demand option, so you can only start a radio station based on a song or an artist, but cannot, say, play a full album of that artist when you want to. We dislike its intrusive ads, but it only costs $3.99 to get rid of them, and for all else it works great.
Rhapsody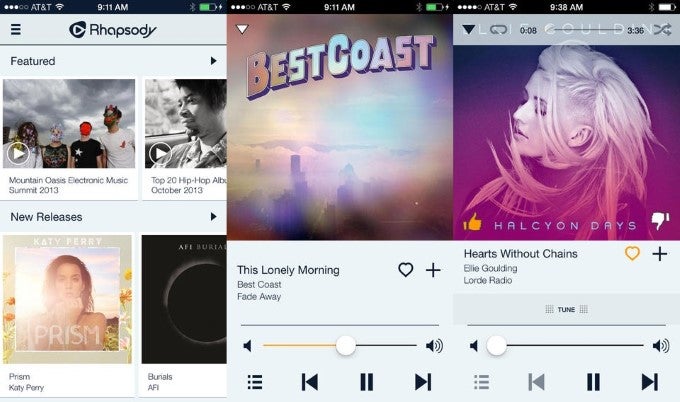 Another all-you-can-eat music service, Rhapsody cannot brag about having the clean and elegant user interface of the rest, but has a similarly large music catalog and capabilities.