Be a Day Tripper, pay AT&T $5 to hook up your slate for one day
4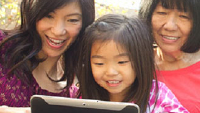 For those of you with a tablet that is not connected to a 4G LTE network, AT&T is offering a single day data plan that allows you to become a day tripper, yeah. On Thursday, AT&T vice president Chris Penrose announced a 250MB data plan good for a single day. The price is $5. Another offering from the carrier is a $25, 1GB plan good for three months. Penrose says that the plans are for those would normally use hotel Wi-Fi while on the road. The executive says that AT&T believes that tablet manufacturers should just have to build one model with a cellular radio. "
We really think that a Wi-Fi only tablet is good, but it is not good enough
," he adds.
To purchase data for a day, you need to own a slate with cellular connectivity. Head over to
buyasession.att.com
using the web browser on your tablet. There is a four step process that you need to complete in order to purchase the data. Your device must have an AT&T SIM card.
The
Apple iPad
, when originally launched in 2010, had an option on the setting page that allowed you to purchase unlimited data on a month-to-month basis for $29.99. While this option is still available, it depends on what the carrier is offering. Some will charge iPad users a prorated fee depending on the number of days in a month that the plan is in use.
source:
Buyasession
via
AppleInsider