Batman: Arkham Underworld finally available for Android
3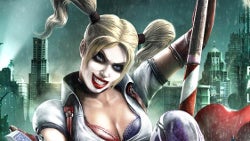 Some months ago, iPhone and iPad users got
a tactical game
, which took us back to the beautiful Batman: Arkham universe, which developer Rocksteady built with its trilogy of Batman-themed titles. Called Arkham Underworld, the game in question puts you in the shoes of a Gotham crimelord, instead of Batman's cowl, and has you employ various well-known villains to send on a bunch of tactical missions and take over the criminal underworld.
The title is now finally available for Android, too, so you can enjoy the Riddler's antics on a wider variety of handsets and tablets. It's a "free" game, with in-app currency, and we all know what this means — you may end up spending more than a retail game's cost, so spend wisely.
It would've been cool if the game offered some form of multiplayer for some real battle of dominance, but oh well. The good news is that Batman does make an appearance at some point in the game — and you need to defeat him or face being thrown in whatever dark hole he finds for you. Are you up for the challenge?