LifeProof $69 case claims to be the slimmest waterproof protection for your iPhone 4
11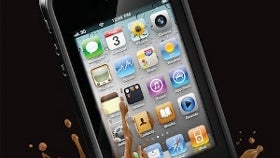 It is still in the production and preorder stages, but, judging from a released video of the $69 iPhone 4
LifeProof case
taken to the beach, it looks very promising.
LifeProof, which is based in San Diego (hence the beach test:), claims that this is the thinnest iPhone case to comply to the full
military IP-68 protection standard
. It adds just
sixteeenth of an inch
(1.5mm) to Apple's finest waistline, but manages to keep your iPhone 4 underwater up to 6.6 feet (2 meters) fully functional for half an hour. Plus, the whole case weighs just an ounce.
Double-coated optical glass lenses ensure clear pics and video, and, of course, you can just wipe the protective glass above the screen from water, and you are good to go. If you have waterproof headphones, LifeProof will sell you an adapter for plugging them in, for those times you just feel like surfing with the music blasting from your iPhone 4. Or, alternatively, you can just use a few-dollar splash bag for your underwater encounters.
In addition, you can drop it from up to the same height - 6.6 feet (2 meters) - then just grab it and go. 26 tests have been made with all of the iPhone 4's edges and surfaces meeting the concrete, as is the IP-68 certification testing procedure.
A number of applications come to mind for the LifeProof iPhone 4 case, but this one is still to hit the shelves, so until we see the finished product put to the test, we will spare judgment.
source:
LifeProof
via
Gizmodo