BLOCKS, the first modular smartwatch, launching Kickstarter on October 13th
7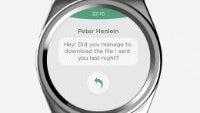 Modular mobile devices seems like something that is on the cusp of a breakthrough, but it never seems to quite get there. Google's
Project Ara has been delayed
, but
BLOCKS
, the first modular smartwatch, has announced that it is finally ready to ask you for money and take the next step towards actual production.
The promise of BLOCKS is quite impressive. The idea is to offer a modular smartwatch that will work with iOS or Android at launch and allow you to choose the options you want, like: an extra battery or storage, NFC for mobile payments, a SIM card, GPS, or even a range of biometric trackers to monitor heart rate, blood oxygen levels, or perspiration and sweat. However, the plans go beyond that because the modules are planned to be an open platform design, which would allow anyone to make their own, meaning you could get fingerprint scanners, cameras, or even kinetic chargers.
None of this promise will mean much if the project doesn't hit its Kickstarter goals, but at the same time, there are no guarantees that a successful Kickstarter will result in a viable product. There will be some early perks for those who really want to see this succeed, so be on the lookout on October 13th if you want to be a backer.