BBM becomes very valuable tool in search for missing children in Canada
7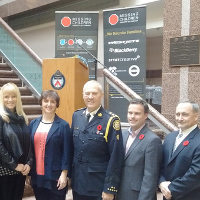 Looking for a way to quickly connect the public in missing children cases in Canada, the Toronto Police Service and the Missing Children Society of Canada have added BBM to their Milk Carton 2.0 program. BBM Channels, the discussion group unit of the messaging app, was named the "Most Valuable Instant Message Service," by the country's Missing Children Society.
Those who follow the Missing Children Society of Canada BBM Channel, will immediately receive a warning whenever information about a missing child is posted. Thanks to the multi-platform support that BBM has, the app offers a wide reach of over 91 million members globally. Many of these are Canadians who can come together, forming one giant community that might be able to help find missing children.
"By following the Missing Children Society of Canada BBM Channel, Canadians will get notified immediately on their BlackBerry, iPhone or Android smartphone as soon as information is posted into the Channel. Accurate and quick communication is so important when trying to locate a child who has gone missing. With over 91 million BBM users around the world, MCSC and the Toronto Police Services will be able to leverage a new social network to raise awareness and get Canadians involved."-Margaret Stuart, Managing Director, BlackBerry Canada
Getting information out to the public is important when it comes to finding missing children. At the early stages of an abduction, the odds of finding the victim are at their best. This means that by having the picture of a missing child disseminated quickly through BBM's Missing Children channel, the chances of saving that child are greatly improved. If this partnership between the Toronto cops, the Missing Children Society and BBM saves the life of even just one child, it will be well worth it.
source:
BlackBerry