Your online phone, tablet or smartwatch order from B&H might now include sales tax
4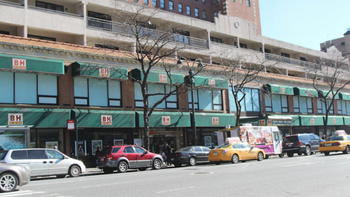 If you're a regular
PhoneArena
reader, you've probably seen our stories related to deals on phones, tablets and smartwatches offered by B&H Photo. The company's lone retail store is located at 420 Ninth Avenue on the corner of West 34th Street in Manhattan. There is also a corporate warehouse in Florence, New Jersey. As a result, for years it has charged sales tax to only those customers located in New York or New Jersey.
By not having to add sales tax to the purchase price of a phone, B&H had an advantage over other online purveyors of mobile tech. Online retailers only had to charge sales tax to customers living in states where the company has a physical presence. For example, Best Buy has stores in all 50 states, which means that they need to charge sales tax on all online orders headed to U.S. consumers. B&H also had an advantage against the four major U.S. carriers in most states.
Now, you might note that we used the past tense in the above paragraph. That's because a Supreme Court ruling on a case titled South Dakota v. Wayfair, Inc. has changed things. According to
a story published today
, B&H is now required to charge sales tax in twenty additional states.
When trying to figure out which deal to take in the future, keep in mind that if you live in one of the states listed below, you will have to pay sales tax on a purchase made through the B&H website:
Alaska
Colorado
Connecticut
Hawaii
Illinois
Indiana
Kentucky
Maryland
Maine
Michigan
Minnesota
Mississippi
North Carolina,
North Dakota
New Jersey
New York
Oklahoma
South Carolina
South Dakota
Vermont
Washington (state)
Wisconsin
Recommended Stories