Average display sizes keep on growing in tech, smartphones lead the way
28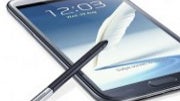 You have witnessed it with smartphones in the last couple of years, but it's a trend all across the industry - screen sizes are growing, according to the latest study by NPD Display Search.
Actually, if we take away OLED TVs which have started appearing massively recently, phones show the fastest growth in screen size. In 2010, the average handset screen size was merely 2.4 inches, growing to 2.6" in 2011, and 3 inches on average this year. In 2013, the average mobile phone will have a screen of 3.3 inches, as more and more people switch to owning a smartphone.
In the four years since 2010, that would be a growth of 38%. In 2012, we've seen most high-end Android handsets to feature 4.7-inch and larger display.
And that's how it is all across the industry. There is one notable exception and that is mobile PCs, where we've seen sizes actually decline and the focus shift to portability. Tablets are a key part of that development. With 10.1-inch Android tablets, the 9.7-inch iPad and the growth of 7-inch affordable tablets, mobile PCs are getting dragged down.
How do you feel about that overall growth of screen sizes? How far can it go for smartphones?
source:
NPD