Auto brightness adjustment app for Android Wear watches that don't have a light sensor
4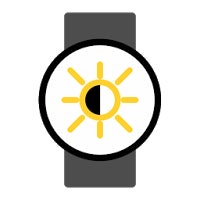 Display Brightness for Wear is an Android Wear app designed to give smartwatches auto brightness adjustment capabilities. This would be especially welcome on the Galaxy Gear and LG G Watch, since both wearables lack a light sensor and oftentimes require the user to manually set it depending on conditions.
The way Brightness for Wear works is by reacting to a mixture of data provided by the watch – time of day, coarse location, and your current activity (as detected by the Google Play Services activity detection API). If it is nighttime, the display stays at the dimmest setting. During daytime, the app will try to guess whether you are indoors or out and set the brightness to either medium or high setting, respectively. For example – if the activity detection API assumes that you are driving, the watch's brightness will auto-adjust to high.
There are still a number of things the app lacks. For example – setting the levels for various situations to a user-preferred value. Also, once the app is installed – it is always on, which means that manual brightness adjustments are no longer an option. Furthermore, the developers warn that auto-balancing is not realtime, since detections are done every once in a while, in order to preserve battery life.
Download:
Android
source:
Android Police