AudioXperts EVA eco-friendly speakers hands-on
1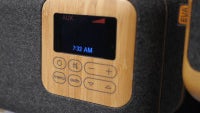 Rummaging through some of the Bluetooth enabled speakers out there, they all strive to pique our interest with their fierce industrial designs. However, the team over at
AudioXperts
has a different way of going about it, seeing that its latest line of compact Bluetooth music systems pay homage to being
eco-friendly
at heart. Showcasing its latest gear at the CE Week Line Show in New York City, we grabbed a quick hands-on look at AudioXperts' line of
EVA branded
eco-friendly, compact tabletop music systems.
From a dedicated Bluetooth speaker solution in the
EVA Blu
, to the alarm clock baked-in feature of its
EVA 400 series
units, they all share one commonality that makes them uniquely different from today's in-your-face speaker designs. To be specific, they all employ a very distinct wood casing that plays into the company's green initiatives. Fashioned out of
bamboo wood
, the EVA line of speakers have a natural look and feel – allowing them to complement any cozy setting. Furthermore, they're all manufactured to ensure that they're comprised out of
60% sustainable resources (70% for the EVA Blu)
. Don't let their sizes fool you, because they pack some serious weight to make us believe that they're sturdy in construction.
Aside from the pleasing designs of the speakers, they're packing some serious audio gear under the hood to appease those with the hunger for thumping audio. Not only that, but the EVA 400 line of speakers feature built-in alarm clocks, touch panels, and stereo support (aided by a companion speaker) that would make it the ideal item to sit nearby your bed on a coffee table or something – trying to wake your groggy self in the morning. In terms of pricing, there are different versions of the EVA 400 speaker, which ranges between
$300 to $600
. As for the EVA Blu speaker, it's mentioned to be priced at
$400
when it launches this fall.
source:
AudioXperts