Asus to use Qualcomm chipset in this year's Google Nexus 7 tablet
33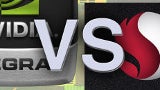 Qualcomm's CMO might have been on to something
when he dissed NVIDIA recently
saying that Snapdragon will catch up with the ground it lost to Tegra in Android tablets.
Rumor has it that Google might be switching to Snapdragon for the next iteration of the Nexus 7 tablet line, instead of using
Tegra 4
, for instance. The idea is to save on logistics, as Snapdragon is a system-on-a-chip package, meaning that the broadband radio is included in the chipset.
The tip comes from an analyst, whose supply chain sources indicate that besides a Full HD screen, Asus is prepping for a chip replacement with its Nexus tablet, from Tegra to Snapdragon:
Supply chain conversations indicate two reasons for Google's selection of the Snapdragon APQ8064 over Tegra 4: competitive pricing, and a decision to single-source the application processor and 3G/4G modem to simplify logistics and create a fully pin-compatible platform interface," declared McConnell.